Yet another sign that the marijuana industry is maturing: 14 cannabis labs from across the country recently participated in a test to determine THC concentrations in blind samples.
The Intra-lab Comparison and Proficiency Test was part of "an effort to help promote quality assurance in a previously unregulated and fast-growing industry," according to a press release from Emerald Scientific, a testing equipment provider that oversaw the study.
The labs, located in five states, each tested a cannabis sample for THC concentration using their own internal methods. Several industry supply labs, a university and a state health agency also participated.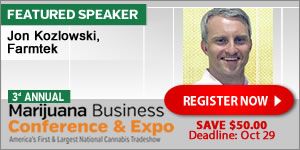 A testing company that meets criteria established by the International Organization for Standardization (ISO) managed the process and collected the data.
Out of 19 reported results, three labs were within 1% of the true THC concentration, another 13 were within 10% of the number, and the furthest was off by 32%.
Other details – including the results of individual labs – were not released. Full results of the test will be available in January.