The first of six medical marijuana dispensaries formally opened in Connecticut on Wednesday night.
The dispensary – Prime Wellness of Connecticut – doesn't yet actually have any cannabis on hand to provide to clients. But its grand opening gave patients an opportunity to meet staffers and learn about the dispensary's services.
Prime Wellness is located in South Windsor, which is in the central part of the state. Another five dispensaries will eventually open in the cities of Bethel, Branford, Bristol, Hartford and Uncasville.
A spokesman for Prime Wellness said the dispensary expects between 200-300 patients to be waiting to fill prescriptions when the first shipment of MMJ arrives in about a month. The dispensary has been offering consultations with patients since last week and will continue doing so until the shipment arrives.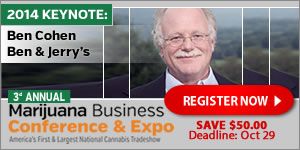 Prices are still yet to be determined, as the dispensary doesn't yet know how much the wholesale growing facilities providing its medical marijuana will charge.
About 2,000 patients are registered with the state's MMJ program.