More good news on the financial front for cannabis businesses: A company that sells self-service kiosks for financial transactions has landed a $25 million investment.
Florida-based Payteller announced Wednesday that ISS Management LLC has agreed to an equity investment in the firm. Additional terms of the deal, including how much equity ISS will receive, were not disclosed.
Payteller recently unveiled a kiosk that was designed specifically for medical and recreational marijuana businesses.
The machine provides a number of financial services for cannabis companies, including "customer registration and authentication, cash collection and management, and integrates with a number of point of sale systems and devices for end-to-end cash management that will meet or exceed all federal and state banking requirements."
The company, which was founded in 2012, also serves a variety of other industries, making kiosks focused on everything from prepaid phone cards to gift cards.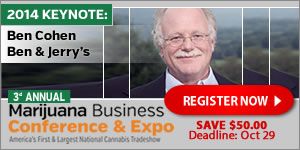 Payteller CEO Jeff Foster said his company plans to use the $25 million injection to keep expanding its line of services.
"With the best kiosk in the market and sufficient capital on hand, we are now marshaling our resources to steer Payteller through this next growth phase and satisfy ever-growing market demand," Foster said in a statement.