Three applicants in Massachusetts are in the running to open Boston's first medical marijuana dispensary, according to a recent update from the state's Department of Public Health (DPH).
Boston is among the areas not served by one of the 11 dispensaries that received provisional approval earlier this year. Four dispensary groups that met initial qualifications but were not successful in their preferred area of operation now have a chance to win permits for counties without approved MMJ centers.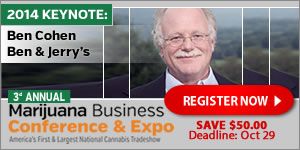 Of those groups, three (JCS Holdings, Medicum Corp. and Patriot Care Corp.) are vying for a dispensary license in Boston.
When determining who gets permits, state officials will look at the "appropriateness of the site, geographical distribution of dispensaries, local support, and the applicant's ability to meet the overall health needs of registered patients while ensuring public safety," according to the health department's website.
Aside from Boston, applicants are also targeting locations in Fairhaven, Greenfield and Taunton.
The licensing process in Massachusetts has been beset by allegations of favoritism and unfair scoring.
Several groups that received provisional approval – including one headed by former U.S. Congressman William Delahunt and one by the team behind Oakland's Harborside Health Center – were subsequently denied licenses due to these controversies. Some of these groups were eyeing Boston for dispensaries.
Various lawsuits have been filed by those denied licenses as a result.