By John Schroyer
Investment money is finally flowing into the cannabis industry as the business risks subside and marijuana goes mainstream.
Scores of deep-pocketed investors are actively seeking opportunities to fund everything from dispensaries and grow operations to ancillary businesses that don't directly handle marijuana.
"It's like the perfect time to be raising capital, because there's a lot of eager money out there," said Troy Dayton, chief executive officer of the ArcView Group, which runs an investment network that has helped generate at least $14 million in investments into 28 companies over the past few years.
That doesn't mean getting a hold of hundreds of thousands of dollars is as easy as showing up with an idea, however. One of the most crucial – and difficult – steps to landing financing is effectively pitching your business to potential investors.
Marijuana Business Daily reached out to three executives who landed money after presenting in front of investors at one of ArcView's quarterly events, asking for their advice on what it takes to craft a successful pitch. Combined, the trio – Garett Fortune of FunkSac, Lauren Fraser of Auntie Dolores and Joshua Hill of Oil Slick – have raised almost $4 million from private investors in recent years to expand their companies.
Here are their top tips for a successful pitch:
Do Your Homework
Half the battle is tied to preparation.
Before pitching investors, make sure you have an extensive, detailed business plan. That means researching your market, knowing all your costs by heart, evaluating risks and crafting financial projections several years into the future.
And make sure you can fully explain how the desired infusion of capital fits into this picture.
"Be able to show what you're going to do with their funding. Don't just go in there and say, 'I'm going to need a bunch of money for this,'" said Fortune, the chief executive officer of packaging manufacturer FunkSac, which raised roughly $600,000 from ArcView investors.

Work with at least one attorney beforehand as well, not only to make sure you know the ins and outs of the industry and the legal hurdles of your target market, but also to bone up on typical structures for financial deals.
"What works is being super-prepared," said Fraser, president of edibles company Auntie Dolores, which raised $500,000 after an ArcView event in June. "Having a good financial model, knowing all your numbers – if you can't (cite) those off the top of your head, you don't know your business well enough."
And have a quality PowerPoint presentation to illustrate your plan and back up your numbers. Don't just cobble together a presentation on the fly; spend real time honing it, because the image you present can make or break your pitch.
"It's really important that the investor get a really clear and concise idea of what you want, what you're looking for, and what you're going to do with it," said Hill, the CEO of Oil Slick, which makes non-stick materials used to store cannabis concentrates. Hill successfully raised more than $1 million from ArcView members in September at the group's Chicago pitching event.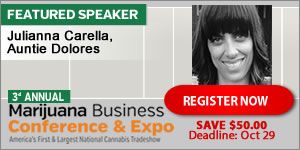 Establish a Track Record

Investors look to minimize risks. They're much more likely to fund a company that's already proven itself at least on a small scale vs. one that's still only in the idea phase. This is especially true in an industry as complicated as cannabis, where laws and regulations vary dramatically by state.
Companies that have an actual product and some history of sales can make their investment pitch shine, and they stand a much better chance of landing money.
"You should really put in a lot of sweat equity before you go after investors," Hill said. "When they see that, they realize that you're not just looking at them as a rich uncle."
The odds of pulling off a successful pitch also increase dramatically if you can demonstrate that you can run a solid company. The greatest business proposition can fall flat if it's not managed well, so it's important to highlight the strengths and experience of the executive team during a pitch.
"(Investors) don't want to operate. They want to fund the people who are doing a good job already," Hill said.
Be Honest
You'll likely get peppered with difficult questions after a pitch. It's possible – even likely – that you won't have all the answers, or that you'll forget them in such a high-pressure situation.
The key is to admit what you don't know the answers. Investors will respect that honesty, especially given the complexities of the cannabis industry.
"When you don't know the answer to something, don't (make one up). Just say, 'I don't know,'" Fraser said. "Ultimately, this is an uncertain market… So it's about being humble. You don't have to know everything, and investors don't want you to know everything. You have to be willing to be wrong."
The worst-case scenario is an investor asks a question, you invent an answer, the investor finds out you're wrong, and you lose credibility with not only that investor but also with all the people he or she tells about your misinformation.
Keep it Brief
Investors are busy people, and they're often inundated with pitches. They don't want to hear you drone on about your company for 20 minutes. A succinct pitch also communicates efficiency, and investors will take note of that.
Pitches should be short and to-the-point, focusing on key aspects of the business and the market as well as the amount of money you are seeking and how much you are willing to give up for that cash.
At ArcView's pitching events, which are held every few months, selected investors are given just five minutes on stage. That's a good rule of thumb for most pitches.
"It's an elevator pitch. Hit those key points: where your marketing is, what your market opportunity is, how much it's going to cost you, and what your sales are," Fortune said. "If you can show those numbers and how you have a successful model in five minutes, then you're going to get those people to come back up to you right after you get off the stage."
Stick to Your Guns

Decide how much of the company you're willing to give up – or how much interest you can pay on financing – before making the pitch, and then stick to it.
It's tempting to give in when investors are clamoring to talk to you and you're caught up in the excitement after a pitch.
But not everyone with deep pockets is your friend, especially if you want to retain control of your company. Beware of investors who offer a significant sum in exchange for a large equity stake or some other form of management.
FunkSac, Fortune said, was approached by a number of such investors who were willing to trade enormous amounts of money for direct control of the company. But he turned all those offers down because he wanted to retain control.
"Don't give up the house, and never give up more than 49% of the company," Fortune advised. "That's what we're seeing, is a lot of these big money guys want a lot of equity."
John Schroyer can be reached at Johns@mjbizmedia.com