Arkansas could become one of the first Southern states to legalize medical or recreational marijuana if any of three potential ballot measures succeed in the 2016 election.
One measure would allow for medical marijuana use only, another would permit use and possession of recreational marijuana, and a possible third would legalize MMJ but with much narrower restrictions than the first.
Arkansas Attorney General Dustin McDaniel has approved the ballot titles of the first two measures, and advocates can now start collecting signatures from those who support the proposals.
The third measure has yet to be submitted to McDaniel's office.
More than 600 volunteers have already signed up to help Arkansans for Compassionate Care gather signatures for the MMJ legalization measure McDaniel signed off on last week.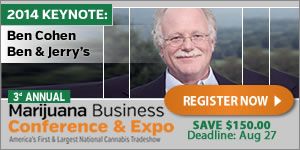 Another medical marijuana proposal failed in the 2012 state election by less than 2% of the vote, and backers weren't able to get a measure onto the 2014 ballot.