A medical marijuana company is offering to work with research institutions that want to study the medical qualities of the plant, hoping the idea will build goodwill, foster community relations and combat the stigma surrounding cannabis.
Columbia Care, which operates the 203 Organix dispensary in Prescott, Arizona, is reaching out to local hospitals and health providers to either participate in or sponsor research around medical marijuana.
Nicholas Vita, the company's CEO, told the Daily Courier that Columbia Care is also currently working with the University of Connecticut on a marijuana study, as well as with "a large hospital in the Northeast" that he declined to name.
Vita did not provide details of his company's relationship with those organization or reveal how much money the company will spend on research. But he said he hopes to work with other "very well-known hospitals, health organizations and healthcare providers."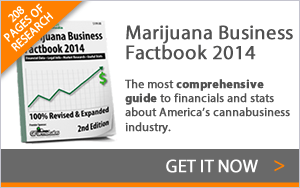 Vita is also doing business in Massachusetts, where he is listed as the treasurer and director of Patriot Care, which won a provisional license to operate in the state (though that decision is clouded in controversy because of Vita's past). He also serves as an executive for a dispensary in Washington DC.