The number of marijuana product batches undergoing laboratory testing in California has dipped in recent months, sparking worries among some industry officials over the health of the state's cannabis market and the possibility that product supply is dwindling.
But several insiders also were careful to note it's too early to reach any conclusions based on the test results, saying the legal market may just be undergoing regular seasonal fluctuation.
According to a Marijuana Business Daily analysis of testing lab reports from the Bureau of Cannabis Control (BCC) – which began issuing the reports last October – the number of product batches tested has dropped by 20% between April and June.
In April, the number of product batches tested hit a 2019 high of 5,113. But in June, that dropped to just 4,111, not far above last October's total of 3,417 batches tested.
As of July 5 – the latest date from which data was available – a total of 56,609 MJ product batches had been tested since January 2018, when adult-use sales began in the state.
The trend has many in the California industry scratching their heads over what's happening, in part because there's not much solid data with which to evaluate the legal market's health.
But some, at least, are worried.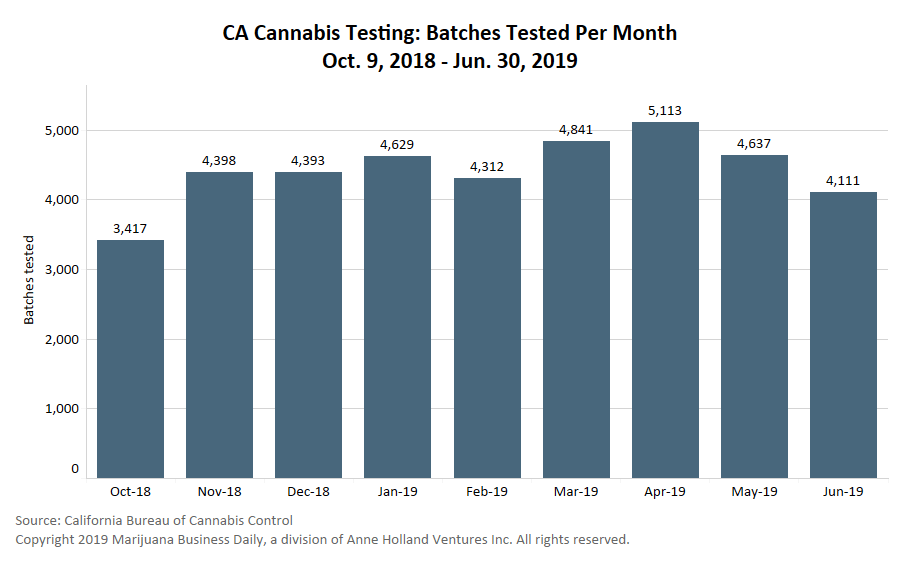 "Is that reasonable to expect from a booming market? I don't think it is," said Swetha Kaul, the chief scientific officer of Santa Ana-based testing lab Cannalysis.
"At best, if you look at it overall, it's flat. But if you look at the last few months, it's downward to a disturbing amount."
No clear answer
The data is far from a solid indicator of what's going on in the California market, Kaul and others quickly noted, and so businesses or investors might not need to worry just yet.
Moreover, industry insiders offered a wealth of possible explanations for the downturn in testing, indicating that more information is needed and it's too early to jump to conclusions.
For instance, Kaul and others noted, the dip could just involve a regular seasonal downturn, which may reverse itself later this summer as more outdoor farmers begin harvesting crops.
"If I were to show you my testing volume over the past five years, it would track along with (the BCC's data)," said Tony Daniel, chief revenue officer for Steep Hill, a longtime Bay Area marijuana testing lab.
"If we had three or four more months of decline, then there's something going on. … (But) this is usually what it looks like. It's premature for me to have a takeaway on what could be just a temporary dip."
Several industry insiders also noted the number of product batches tested doesn't directly translate into a specific amount of product, because the size of the batches can vary wildly.
The maximum legal marijuana flower batch that can be sent for testing, for instance, is 50 pounds. However, many growers have sent much smaller batches.
Kaul said the average flower batch her lab has seen is roughly 22 pounds, and Daniel said Steep Hill's average is about the same.
But batches of manufactured products such as vaporizer cartridges can range from 1,000 units to the tens of thousands.
Meanwhile, growers and manufacturers have had to adapt repeatedly since January 2018, when lab testing first became mandatory in California and as new requirements – for pesticide testing and heavy metals – kicked in last July and then in January 2019.
Those same businesses could finally be getting confident enough in their product – and the testing labs – to send larger batches on a regular basis.
In other words, it's possible the product volume in the supply chain is up, or at least steady, while the number of batches being tested has decreased.
The testing report numbers also don't jibe with what industry tracking company Headset has seen from its retail contacts, from which it gets regular reports on revenues and sales.
"It's difficult to come to a full conclusion without more data points," said Liz Connors, director of analytics at Seattle-based Headset.
"The California market still appears to be growing, so if batches are getting smaller but the market is growing, we would have to then think that either batch sizes are increasing or less stuff is getting tested.
"But we definitely don't see a revenue decline in California to correlate with (the testing batch downturn)."
Connors added that California is a "data-starved" market, which makes it all the more difficult to properly analyze the BCC's testing lab reports.
Product shortage and price spikes?
The drop in batch testing also coincides with thousands of temporary business licenses – particularly cultivation permits – that have expired, a trend that began earlier this year.
That may mean the testing data indicates market contraction, fewer growers sending product to labs and a drop in legal MJ product in the overall supply chain.
"My first thought is there were like 8,500 temporary (cultivation) licenses that were originally issued, and now … the number is like 2,500," said Graham Farrar, owner and CEO of Glass House Farms in Carpinteria. "You have to assume there's some level of reduction in product that's going into testing."
Asked what he think that portends, Farrar said, "Prices are going to go up is what's going to happen."
Morgan Paxhia, co-founder of San Francisco-based Poseidon Asset Management, had a mixed reaction to the data.
Like Headset's Connors, all the indicators Paxhia has seen are that the legal market is still growing and doing well.
But, he added, "What this tells me is there's going to be a spike in prices this summer, because if this ties back to inventory, that means we have dwindling inventory. That would lead to product shortages, outages and potential volatility in pricing until this starts trending back up again."
Paxhia and every other industry source who spoke with Marijuana Business Daily struggled to find an explanation for the trend, however, and the lack of consensus suggests there simply isn't an answer to be had yet.
Steep Hill's Daniel concluded, "If I let two months worth of bad data bug me, I would have shot myself a long time ago. Until it looks like it's dire – I'm staying optimistic."
John Schroyer can be reached at johns@mjbizdaily.com
Maggie Cowee can be reached at maggiec@mjbizdaily.com