A Canadian company is set to become just the second licensed medical cannabis cultivation business in the country to go public.
Bedrocan Canada Inc. has reportedly received approval to list on the Toronto Venture Exchange under the ticker symbol BED, and its stock is scheduled to debut on Monday, according to Reuters.
The company will join the exchange by completing a reverse takeover, which allows it to bypass the time and expense tied to an initial public offering.
Bedrocan is one of around a dozen cultivation companies to have received a licensed from Health Canada under the country's new MMJ program. It was recently valued at about $52 million ($57 million Canadian dollars).
The development comes roughly four months after the first licensed MMJ cultivation company in Canada – Tweed Marijuana Inc. – joined the exchange.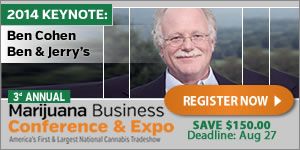 The news is another indication of the Canadian government's acceptance of the medical marijuana industry as a legitimate business. The government has forecast that the MMJ market will explode to a value of more than $1.1 billion over the coming decade.
Bedrocan has 1,100 registered patients across Canada and is currently constructing a 52,000-square-foot grow center in the Toronto metro area that should be finished by the end of the year.