Several dozen executives from the cannabis industry pressed federal lawmakers in Washington DC this week to relax laws on marijuana businesses, specifically those tied to banking and taxes.
The delegation –which included dispensary owners, MMJ accountants, lawyers and other marijuana business professionals from across the county – met with Congressional staffers to voice their concerns and huddled with each other to talk about the issues facing the industry.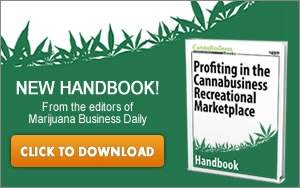 The group also participated in a press conference with several lawmakers who support marijuana-related legislation, including Reps. Earl Blumenauer (D-Oregon), Ed Perlmutter (D-Colorado) and Barbara Lee (D-California), among others.
"This is a serious issue where 21 states have a different view of the use of marijuana than the laws on the books for the federal government," Perlmutter said at the press conference.
The meetings and events were organized by the National Cannabis Industry Association, a lobbying group for marijuana businesses.