By Fred Dreier
Investors are flocking to the cannabis sector in record numbers as the risk of federal prosecution ebbs and business opportunities grow.
But they aren't just pumping money into companies via angel funding, loans and private equity. A growing number are buying up buildings and warehouses as the value of such properties soars because of increased demand from entrepreneurs seeking to open cultivation sites and dispensaries.
Bill Gottlieb and Jake Schrader and saw an opportunity in cannabis real estate 18 months ago.
As money managers in New York City, they believed Colorado's real estate market would be attractive to East Coast institutional investors. So in mid 2013, they left their firms and founded Articulated Investors, an investment fund that buys warehouses in cannabis markets and then leases them to cultivators.
The two have raised several million dollars for their fund and have purchased five properties to date, with several others in advanced negotiations.
Marijuana Business Daily caught up with Schrader and Gottlieb to discuss their investing strategy and the dynamics of the cannabis real estate market.
Q: How does your fund work with the cannabis industry?
Schrader: We've developed a series of relationships with licensed [cultivation] operators who we believe to be excellent at their craft and good actors. We don't pretend to be experts in real estate or even cannabis. We will never buy a property without a lease in place. We acquire specifically with a licensed operator in hand. They have identified the building as a piece of property they would like to occupy. We won't suggest a building to the operator.
Gottlieb: Ultimately our goal is to not buy property for resale. We sign a 10-year lease with the operator that is associated with the property.
Q: Why shouldn't the operators just purchase the real estate themselves?
Schrader: Right now it's not in their best interest to own real estate. There might be three to six other similar demands on their time, so the operator is better off outsourcing. Operators should focus on doing what they do best, and if they can work with people to help them on business that is peripheral, then they can focus on producing the best cannabis they can. That is a good business decision.
Q: What is the size of the investments you're making?
Schrader: Our range is between $750,000 and $3 million for an individual investment property. In 2014 realistically I would think there is the possibility that we could consummate as many as eight to 10 investments.
Q: How would you describe your investors?
Schrader: All of our investors are sophisticated professional investors who spend their lives looking at pitches and deciding where or where not to allocate capital. There is a range of [cannabis] knowledge, from one with a firm understanding of the industry and a deep understanding of real estate, to others who came to the pool because one of their friends was in it.
Many of [our investors] believe that the perceived risks are higher than they actually are, and the potential for rewards is out-sized. For others, its a fun thing to talk about at cocktail parties. It's like "hey, I'm in this cannabis fund with really good returns."
Q: How have you seen the real estate demands of cultivators shift during your time in the industry?
Schrader: It's nothing revelatory, but in a perfect world operators would prefer to have at least some greenhouse in their portfolios. The reasons are obvious: it costs less to grow with a greenhouse, so the cost-per-pound is better.
Gottlieb: Most producers have their own special sauce, and we are not afraid to buy a proverbial blank canvas and let them build it out the way they want. Each set of growers has a different system, but everybody wants lots of electricity and plumbing and heating and cooling. A big part of what is inside the grow is operator-specific.
Q: As the industry has matured, has it become harder to find warehouses that fit the bill?
Schrader: Theoretically every warehouse fits the bill, it's just about whether it is rationally priced. We recently looked at one property that had sold into cannabis for $880,000, and the owner had done nothing to the building and was trying to sell it for $1.3 million.
We weren't comfortable with that. There is still plenty of property out there that can be converted and then produce a steady income with enough to pay the rent. The macro trade has already happened, but that doesn't mean that good pickers can't do well this year.
Q: How would you describe the knowledge level of East Coast investors when it comes to the cannabis industry?
Gottlieb: Part of it is rooted in a real cultural disconnect. There are people on the East Coast who understand in the abstract what is happening with cannabis, but they don't understand how significant the transformation has been in these Western states. Their eyes start to open when we talk to them about what is going on. They realize it is a big opportunity and a big business.
Q: How would you describe the change in reception you've received from the cannabis industry? Were entrepreneurs wary of working with East Coast money men at first?
Gottlieb: When we first started, people had stories of money people they had worked with who had created a problem or not delivered on their promises. People were wary of outside money.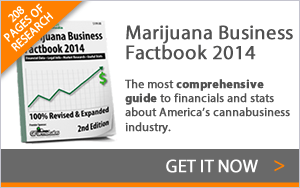 There has been a gradual comfort and familiarity with outside investments among people in the business. We realize the cannabis community has a well-developed culture that has been going on for 30 years or so. People know each other. We try to respect that culture and not come in as the money guys who know how to run a business and try to substitute our knowledge for theirs.
Schrader: As we've spent more time in the industry, the industry is more comfortable with Jake and Bill as reasonably competent guys who do the things they said they could do.
Photo: Bill Gottlieb (left) and Jake Schrader