CannaBusiness Media, the largest and most established provider of professional events, financial data and business news to the legal cannabis industry, announced last week that George Jage has been hired as President and Publisher.
Jage previously founded World Tea Media and the World Tea Expo, business-to-business information properties that helped the U.S. tea market grow from $5.7 billion in 2003 to more than $15 billion in 2014. He also created the Healthy Beverage Expo, which serves the consumer beverage market.
Jage said he's excited to join the cannabis industry because of its "exceptionally strong market parallels" to his previous industry experience, combined with the "explosive growth" on tap for legal marijuana markets.
CannaBusiness Media is the parent company of CannaBusiness Magazine, the Marijuana Business Factbook and Marijuana Business Daily.
"With exceptionally strong market parallels, I am excited to head the nation's top event and news provider," he said.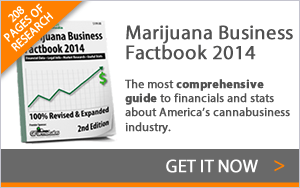 Jage replaces former publisher Cassandra Farrington, who has been named CEO of the company. Farrington highlighted Jage's experience with business-to-business media and events, praising his "track history of developing content and in-person events which help small industries turn in to big ones."
"We're thrilled to have him on board and heading up the team here," she said.