Hundreds of industry professionals from across the country will gather next week for day-long financial advisory and networking events focused entirely on overcoming the financial challenges of establishing and operating a cannabis business.
The first of these seminars – called the CannaBusiness Money Show – will be held in Boston on April 2, followed by events in Chicago and San Francisco.
Attendees will include commercial marijuana growers, dispensaries, edibles makers and ancillary companies ranging from accountants to testing labs. Private equity executives and major industry investors are also expected.
Thirteen expert speakers include executives from Privateer Holdings, Harborside Health Center, the Cannabis Training Institute, Canna Counsel, Cottens and Carp, Bridge West CPAs, Advanced Cannabis Solutions, Guardian Data Systems, the ArcView Group and Sapphire Protection.
Chris Walsh, editor of Marijuana Business Daily, will give the keynote, "Profitability Benchmarks and Opportunities: Takeaways from the Marijuana Business Factbook 2014."
Other topics to be covered include how to attract the best private equity for a startup or business expansion; cash management, payment processing and security; and how to handle federal taxes (the 280E dilemma).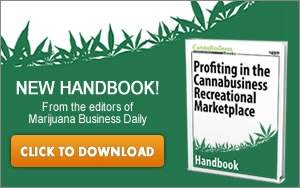 Each event also includes a networking luncheon and evening cocktails party.
For press passes, credentialed media may contact CustomerService@CannaBusinessMedia.com.
The Chicago and San Francisco shows are sold out, but there are still some tickets available for the Boston event. Entrepreneurs and investors can purchase tickets at http://CannaBusinessMoneyShow.com.