As the impending September time frame looms for medical marijuana businesses to apply for operating permits in Illinois, local communities around the Chicago metro area have been working feverishly to adjust zoning laws and other regulations for MMJ companies.
On Tuesday, for example, officials in Glenview considered the possibility of allowing an MMJ dispensary in an industrial zone within the town's borders. And on Wednesday, the Elgin City Council passed a special-use permit to let a dispensary set up shop in a commercial area.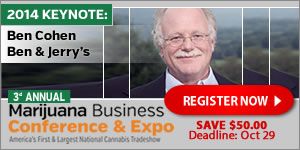 Other Chicago suburbs dealing with similar questions include Woodstock, Naperville and LaGrange.
Much of the debate at the local level in Illinois has focused on where MMJ dispensaries will be able to operate. The big question: Will dispensaries be allowed in small downtown corridors, or relegated to the outskirts of towns?
That'll likely become a case-by-case basis, with different municipalities making different choices.
The state application process for MMJ businesses runs from Sept. 8-22, with 21 cultivation center permits and 60 MMJ dispensary licenses up for grabs.