The third-largest city in Colorado awarded 21 licenses for cannabis shops on Thursday, paving the way for the first stores to open on Oct. 1.
Aurora, located just east of Denver, sifted through 58 applications from businesses competing for 24 licenses in six wards scattered throughout the city.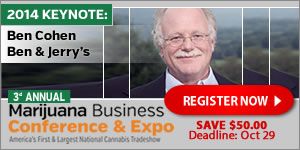 In all, 13 separate companies were awarded operating permits, with several getting multiple licenses in different wards. The Green Solution, for example, was granted permits to open recreational marijuana stores in four of the city's six wards.
While Denver and other cities in Colorado started awarding licenses late in 2013 and earlier this year, Aurora took its time to develop local regulations. The city finalized rules this spring and began accepting MMJ business applications in July.
The 21 retail store licenses were issued based on specific criteria, including criminal background checks for staffers, financial liquidity and various operating requirements.
The remaining three available licenses will be up for grabs through another application process, which begins Sept. 2.
Aside from The Green Solution, the recreational marijuana license recipients include 3LP LLC, Altitude Aurora, Colorado Harvest Company, Euflora, Lightshade, Medicine Man Aurora, Mountain States Group LLC, Rocky Road Aurora, Starbuds, Sweet Leaf and Terrapin Care Station.