Despite a record-setting month for recreational marijuana sales in Colorado this past June, tax revenues from retail cannabis transactions are 60% below what lawmakers initially expected by now.
As a result, one state legislator says it might be time to take another look at the tax structure for both recreational and medical marijuana.
Early estimates put Colorado's tax haul from recreational marijuana sales at more than $33 million through the first six months of the year. But the final tally was only $12 million.
A large reason for that could be because medical marijuana is much cheaper than recreational cannabis, according to a report prepared for the Colorado Department of Revenue.
"There's some real impact that the medical marijuana market is having on the recreational marijuana market," state Rep. Dan Pabon, D-Denver, told The Denver Post. Pabon is heading up a legislative committee that's examining marijuana tax revenue. The group held its first meeting on Tuesday.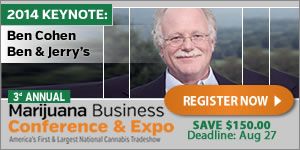 A new projection from two months ago estimated that Colorado will bring in just $30.6 million in recreational marijuana taxes for the 2014-2015 fiscal year, far short of the $100 million that the governor's office initially forecast.