Mjardin Management isn't exactly an original idea, given that it's a consulting and management company with a focus on the "cultivation and sale of premium cannabis."
But its restructuring plan demonstrates the company's ambition.
According to The New York Times, Mjardin plans to announce on Wednesday that it has reorganized the firm, with the main operating company focusing on consulting with licensed cannabis retailers and growers and the parent company – MJAR Holdings – retaining the intellectual property.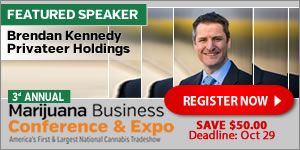 Managing partner Adam Denmark Cohen told the Times that the reorganization should help facilitate the eventual goal of putting MJAR up for an initial public offering.
Cohen told the Times that Mjardin is akin to hotel management companies, while MJAR is just the brand owner. That, said Cohen, will allow the company to adapt in the future if it does wind up trying to get a completely underwritten IPO.
The future isn't set, Cohen said, and the company may not opt for the stock market. But if it does, Cohen is confident the company will be able to get investors without much trouble.