Reports and Resources curated by:


Now, MJBizDaily is able to offer our audience exclusive access to Cowen's cannabis premium research, merging the best in business data and news with unique investing insights.
Since 2016, Cowen has distinguished our expertise as a leader in cross-sector collaboration spanning consumer, health care, technology, industrials and regulatory policy verticals to offer the most comprehensive analysis of the global cannabis industry available on Wall Street. Our Ahead Of The Curve® Series Cannabis coverage provides analysis of the U.S. and global market opportunities, the CBD market, expansion of international markets, and proliferation of consumer brands and novel form factors.
U.S. Cannabis
---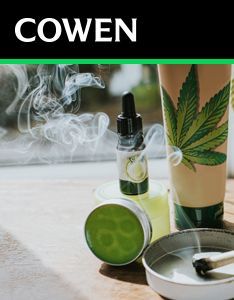 AHEAD OF THE CURVE® SERIES
Canadian Cannabis Compendium

April 15, 2021
THE COWEN INSIGHT
Herein is a detailed 2020 Year in Review for Canadian cannabis. This data-driven report consists of 146 pages and breaks down LP performance and brand share across form factors and key provinces. We also provide updated estimates for the total addressable market for legal cannabis in Canada.
Page count: 146
Table of Contents
• Total Addressable Market
• National Canadian Cannabis Overview
• Total Canada LP Performance
• Total Canada Form Factors
• Total Canada Retail Doors
• Ontario Overview
• Alberta Overview
• BC Overview
---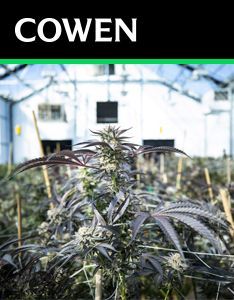 AHEAD OF THE CURVE® SERIES
The U.S. Cannabis Collective: A State-By-State Overview

April 15, 2021
THE COWEN INSIGHT
This 154-page report consists of a state-by-state overview of the U.S. cannabis industry with policy insights from Cowen's Washington Research Group. Using a variety of public and private data sources we provide granular insights into current state of U.S. cannabis as well as our expectations for legal U.S. cannabis in the years ahead.
Page count: 154
Table of Contents
• The U.S. Cannabis Collective
• National U.S. Cannabis Overview
• Updating the Legislative Landscape
• State Policy Overview
• National U.S. MSO Performance Overview
• Northeast States
• Midwest States
• Southern States
• Western States
The content provided via the sale of the Cowen research materials is for informational purposes only. You should not construe any information or other material as legal, tax, investment, financial, or other advice if/when provided or made available by MJBizDaily or purchased through MJBizDaily. Nothing contained on our website or in the Content constitutes a solicitation, recommendation, endorsement, or offer by MJBizDaily or Cowen to buy or sell any securities or other financial instruments in this or in in any other jurisdiction in which such solicitation or offer would be unlawful under the securities laws of such jurisdiction. You may use and rely on such information entirely at your own risk. You are prohibited from sublicensing or distributing, copying, creating any derivative works or otherwise using the Content, or any part thereof other than for your own personal, non-commercial use.  MJBizDaily and Cowen are under no obligation to update the Content or any disclosures in the Content.  Purchasing the Content does not create with MJBizDaily or Cowen any contractual relationship or any obligations, including support obligations, to you related to the sale and use of the Content.
Please read our full terms and conditions for more details.