Reports and Resources curated by:


Now, MJBizDaily is able to offer our audience exclusive access to Cowen's cannabis premium research, merging the best in business data and news with unique investing insights.
Cowen's renowned Ahead Of The Curve® Series showcases the authoritative expertise and thought leadership synonymous with the Cowen Research brand. At least twice a year, each of our research analysts is required to produce a forward-looking outlook featuring a non-consensus idea, their views on an investment controversy, or a topic they believe investors need to focus on in more depth.
U.S. Cannabis
---
AHEAD OF THE CURVE® SERIES
Charting Cannabis: A State-Level Deep Dive
February 19, 2020
THE COWEN INSIGHT
Charting Cannabis: A U.S. State-Level Deep Dive puts the 2020 cannabis narrative into context. In a collaborative report with policy analysts from Cowen Washington Research Group, we highlight political and market trends in all 34 states (including Washington D.C.) with a cannabis program that serve as important factors in shaping each market.
---
AHEAD OF THE CURVE® SERIES
The Green Rush Needs to Make Good On Its Promise
September 13, 2019
THE COWEN INSIGHT
Herein is a deep dive on U.S. cannabis and MSO business models. Our outlook for the U.S. harmonizes with Canadian cannabis in that scale, profitability and optionality are most relevant upside factors. We favor a CPG-type business model that emphasizes finished goods, which carry superior margins relative to retail; depth over breadth optimizes that margin realization.
---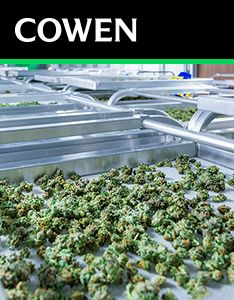 AHEAD OF THE CURVE® SERIES
Cannabis: $75B Opportunity; Category Cross-Currents Keep US Cautious on Booze
April 4, 2018
THE COWEN INSIGHT
We expect cannabis sales of ~$75 bn by 2030, supported by new analysis on category retention gaps and population-weighted, state-based analysis on cannabis first use and binge drinking (where cannabis access points to more cannabis trial and use, less binge drinking, and an opioid solution).
---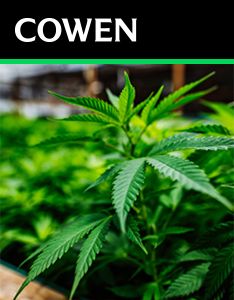 AHEAD OF THE CURVE® SERIES
The Cannabis Compendium: Cross-Sector Views on a Budding Industry
September 12, 2016
THE COWEN INSIGHT
10 Cowen analysts across consumer, regulatory and health care address the near and long-term implications of the cannabis industry. For recreational use, we forecast a $50 bn market by 2026 (from $6 bn today). While health care applications remain varied, we are encouraged by the ongoing research, in particular for epilepsy, and note the significant declines in opioid prescriptions already seen.
Canadian Cannabis
---
AHEAD OF THE CURVE® SERIES
Disruption Junction, The Cannabis Growth Function
November 11, 2019
THE COWEN INSIGHT
We take a deep dive into the key near-term drivers for cannabis category growth in both the U.S. and Canada, where we forecast a potential market opportunity of $85 bn (previously $80 bn) and C$12 bn, respectively. With several drivers of growth approaching inflection points, we see increased opportunity for accelerating category growth in 2020.
---
AHEAD OF THE CURVE® SERIES
Uncovering the Covert Cannabis Consumer
May 20, 2019
THE COWEN INSIGHT
We take a deep dive into the Canadian cannabis consumer and unearth insights that keep us bullish on the long-term market formation of a C$12 bn category. Despite early growing pains, we observe that the underlying cannabis consumer demand is currently well underrepresented and underserved.
Cannabis & Alcohol
---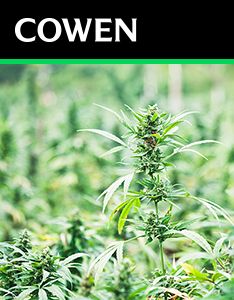 AHEAD OF THE CURVE® SERIES
420 Fact Finding: Marijauna Migration = Drinking Doldrums?
April 20, 2017
THE COWEN INSIGHT
We believe alcohol could be under pressure for the next decade, based on our data analysis covering 80 years of alcohol and 35 years of cannabis incidence in the U.S. Since 1980, we have seen 3 distinct substitution cycles between alcohol and cannabis; we are entering another cycle.
CBD
---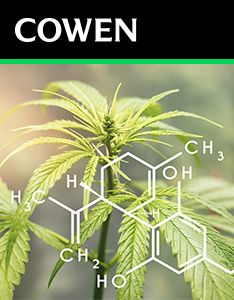 AHEAD OF THE CURVE® SERIES
Cowen's Collective View of CBD
February 25, 2019
THE COWEN INSIGHT
In a collaboration featuring 11 analysts spanning Cowen's consumer, health care, industrials and regulatory teams, we offer a deep dive on the global cannabis market, with a particular emphasis on the U.S. For consumer goods, we believe the U.S. CBD market could represent a $16 bn opportunity by 2025.
Medical Cannabis
---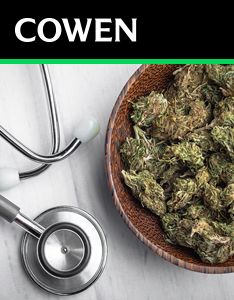 AHEAD OF THE CURVE® SERIES
The Medical Cannabis and Cannabinoid Landscape
March 8, 2019
THE COWEN INSIGHT
Optimism is increasing for the role of cannabis and derivatives in medicine. Here we provide a brief primer on the evolving medical cannabis and cannabinoid space, discussing the science, companies and institutions involved, clinical programs underway, evolving regulatory landscape, and patent protections possible for cannabinoid therapeutics.
Opioids
---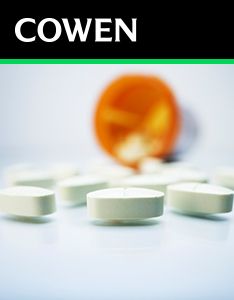 AHEAD OF THE CURVE® SERIES
Cowen's Analysis of the Opioid Crisis
November 14, 2017
THE COWEN INSIGHT
In this primer, 12 Cowen analysts discuss the current landscape of the opioid crisis and potential public and private market solutions. We look at treatment paradigms, the pipeline of alternative therapies and changing service models. We also discuss outside-the-box solutions such as cannabis, medical devices and digital health.
---
The content provided via the sale of the Cowen research materials is for informational purposes only. You should not construe any information or other material as legal, tax, investment, financial, or other advice if/when provided or made available by MJBizDaily or purchased through MJBizDaily. Nothing contained on our website or in the Content constitutes a solicitation, recommendation, endorsement, or offer by MJBizDaily or Cowen to buy or sell any securities or other financial instruments in this or in in any other jurisdiction in which such solicitation or offer would be unlawful under the securities laws of such jurisdiction. You may use and rely on such information entirely at your own risk. You are prohibited from sublicensing or distributing, copying, creating any derivative works or otherwise using the Content, or any part thereof other than for your own personal, non-commercial use.  MJBizDaily and Cowen are under no obligation to update the Content or any disclosures in the Content.  Purchasing the Content does not create with MJBizDaily or Cowen any contractual relationship or any obligations, including support obligations, to you related to the sale and use of the Content.
Please read our full terms and conditions for more details.