By Marijuana Business Daily staff
The biggest challenge for medical marijuana dispensaries in many markets is keeping up with enormous demand and managing rapid growth.
But for entrepreneurs in states with highly restrictive rules – such as New Jersey, New Mexico and Washington DC – simply opening for business each day can be considered a major accomplishment.
Dispensaries in these types of markets face everything from extremely low patient counts that dampen sales to production caps that create operational and inventory issues.
To survive, they must spend a considerable amount of time and money on advocacy and communication, keep overhead to a minimum, develop strong relationships with patients and find ways to hang on as the market matures and grows.
"We do a lot of outreach to politicians and officials," said Jeffrey Kahn, owner of Takoma Wellness Center in Washington DC. "We make sure our patients can testify at public hearings – anything that can help the situation."
Entrepreneurs in new MMJ markets should take note: An increasing number of states – including Minnesota and New York – are enacting strict regulations that will present similar hurdles.
Thinking Outside the Box
Washington DC is one of the most challenging markets in the United States, with just four ailments that allow patients to get MMJ cards, three total dispensaries and approximately 500 patients.
Dispensaries opened just over a year ago, and they all struggled from the start given the small market base.
In October, for instance, Takoma Wellness had just 24 patients – well short of the 350 it needs to break even.
Instead of throwing in the towel, Takoma's executives adopted a hands-on approach to winning customers. The dispensary helps new patients fill out their registration paperwork, snaps a head shot for their license, delivers the paperwork to the correct municipal office and even pays the registration fee.
The focus on customer service appears to be working: Takoma now has approximately 200 regular patients.
"At first it was one or two patients a week that we'd bring down [to the office]," Kahn said. "Last week we did 45 applications."
Kahn believes the dispensary will hit the break-even patient threshold sometimes this year.
Until then, he must keep his costs as low as possible. To accomplish this, Kahn employs his wife, his daughter and his son-in-law, who all work without taking a salary.
"We have tried to think outside the box," Kahn said. "It's only been in the last few months that we realized it was a good decision."
There is light at the end of the tunnel. Kahn said that the number of licensed growers has increased from one to three in Washington DC, and that some of the growers are producing concentrates and oils, which were not present in October.
Legislators also have proposed widening the ailments list – which will bolster the market – and many expect that to happen later this year.
Doctor Outreach

New Jersey dispensaries have also struggled with small patient counts, however a restrictive ailments list is only partly to blame.
One of the biggest issues is that doctors have been unwilling to prescribe the drug because doing so adds their name to a public list, which some see as a stigma.
With few doctors prescribing the drug, only a limited number of patients have been cleared to buy it.
The Compassion Care Foundation in Egg Harbor serves approximately 650 patients, which is far lower than ownership anticipated when it opened in 2013. David Knowlton, chairman of the dispensary's board, said the group has had to trim labor costs in recent weeks by cutting back on employee hours.
The dispensary also recently tabled its plans to expand into a second cultivation facility because current demand is not high enough.
"The biggest risk right now is waste," Knowlton said. "At our current capacity, the worst that happens is you lose some of your grow."
Knowlton, who is also chairman of the NJ Health Care Quality Institute, said the company has redirected resources toward physician outreach. Employees call groups of doctors, hospice centers and cancer groups to pitch the benefits of medical marijuana. Knowlton also discusses medical marijuana with physicians on a one-on-one basis.
Instead of telling spectacular stories of marijuana as a miracle cure, Knowlton said, employees discuss the pragmatic medical benefits of the plant.
"When an anecdotal story is told about how marijuana shrunk a tumor by 40% or cured someone, it actually destroys [medical marijuana]'s credibility to doctors," Knowlton said. "We translate the message to doctors in their terms."
Inventory Strategies

Dispensaries in New Mexico are hamstrung by the state's low plant count, which restricts businesses to just 150 plants under cultivation. Businesses there often shut down for several days in between harvests because inventory has run out.
Shortages erode patient confidence and often steer customers to the black market.
Erik Briones, owner of Minerva Canna Group in Albuquerque, said his business overcame the restrictive plant count by purchasing wholesale cannabis from dispensaries in more rural areas of the state.
New Mexico does not prohibit wholesale sales, however Briones said many dispensaries only sell what they themselves grow.
Minerva Canna buys medical cannabis from three different dispensaries that cultivate their own marijuana.
"It allows us to have up to 15 strains available and real depth behind our medicine inventory," Briones said. "Most producers at some point run out of medicine. I've never had that problem."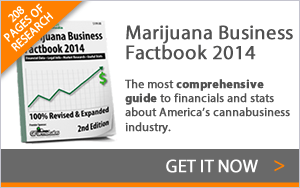 Finding wholesale partners, however, required months of work. Briones said one of his wholesale partners required more than a year of coercing before agreeing to do business with Minerva.
"We really had to earn each other's trust," Briones said.
To add to his inventories, Briones spent considerable time and cash to refine his own cultivation techniques.
He eliminated strains that produce smaller amounts of cannabis, and invested in a "screen of green" or scrog method of cultivation. He said the changes have increased his yields from 9 ounces per plant to 1.5 – 2 pounds per plant.