The owner of one of Colorado's largest recreational marijuana stores projects his 2014 revenues will more than double his sales as a medical marijuana dispensary.
Andy Williams, owner of the Denver-based Medicine Man retail store, told The Denver Post he generated $4.4 million in 2013 from medical marijuana sales. Based on revenue numbers so far this year, Williams expects 2014 sales from both medical and recreational cannabis to total between $10 million and $12 million.
Medicine Man was one of a handful of Denver-based dispensaries to open its doors to the new recreational market on Jan. 1. The store racked up $93,000 in sales and served 680 customers that day, earning nearly $1 million in profits for the entire month.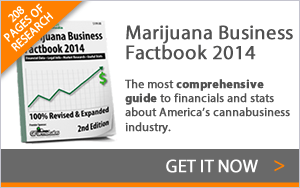 Williams said Medicine Man then brought in approximately $750,000 in revenues in February and again in March.
Colorado's recreational marijuana shops recorded about $15 million in revenues in February, with around $14.3 million of that tied to raw cannabis and infused products and the rest from ancillary products.
Williams predicts that his store could generate nearly $5 million in profits for the year.
Medicine Man recently secured $1.4 million in financing, which is helping fund a $2.6 million expansion of its retail and cultivation facility.
Williams said the success also attracted potential buyers for his business. He told The Post that former commodities trader Robert Ehrlich approached him in the Medicine Man parking lot to inquire about purchasing a percentage of the company. The deal eventually stalled. Ehrlich, who founded Robert's American Gourmet Foods, did not comment on the potential sale.