If you work in the marijuana industry in Colorado, brace yourself.
The state's Marijuana Enforcement Division (MED) has finalized a set of roughly 30 new regulations including everything from testing standards to caps on outdoor marijuana growing production.
The MED took industry feedback into account when crafting the new rules, though, and the cap on outdoor grows is a result of that.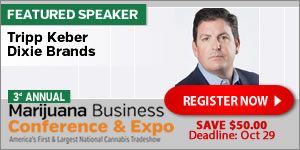 An earlier draft of the rules only allowed greenhouses and outdoor cultivation centers to produce half of the plants that indoor grows are allowed to sow. The new regulations put outdoor and indoor grows on the same playing field – both can grow up to 3,600 marijuana plants.
Another new requirement is minimum "responsible vendor training" for marijuana store employees. Every one of the nearly 19,000 individuals with a marijuana occupational license will have to meet the standards – which is related to public health and safety – if they want to be hired at a medical or retail marijuana store. (Colorado has 496 medical dispensaries and 242 recreational shops.)
According to a report from Rocky Mountain PBS, industry leaders in the state are largely welcoming the new regulations, saying they want the cannabis business to be as responsible as possible.