Absentee ballots have just started to hit Florida mailboxes, and it's no coincidence that a flood of campaign ads both for and against the state's medical marijuana ballot measure began airing on Monday.
People United for Medical Marijuana, which is backing Amendment 2, and Drug Free Florida – which is opposing the initiative – both paid big bucks for competing TV ads that paint MMJ in a very different light.
People United's ad focuses on the need of patients with debilitating conditions, and argues that MMJ is already working in nearly two dozen other states.
"Voting yes on 2 will allow doctors to recommend the medicine they feel will ease the pain and suffering of thousands of sick Floridians," the ad's narrator says.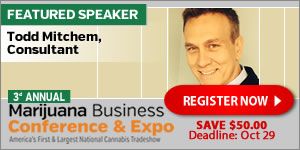 Drug Free's ad, meanwhile, suggests that Amendment 2 is full of loopholes, and holds MMJ caregivers blameless even if their treatment hurts patients.
"They don't call it the 'Drug Dealer Protection Act,' but they should,'" intones a deep voice in Drug Free's ad.
With millions in campaign donations already raised by both sides, it's almost guaranteed that the TV ad war will continue until Election Day in Florida.