Infused products manufacturer G FarmaLabs is looking to raise $5 million though a private stock offering to expand its presence in California and pave the way for national growth.
The company plans to sell up to 2 million shares of common stock – at $2.50 each – to qualified investors in California, according to a prospectus it shared with Marijuana Business Daily. The minimum purchase: $5,000, which equates to 2,000 shares.
Investors must be residents of California and meet certain financial requirements, as outlined under state law.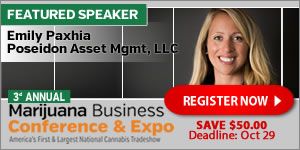 The company plans to use the money to expand its kitchen and manufacturing plant in the Los Angeles area. In particular, G FarmaLabs wants to bolster its current workforce of 40 staffers and buy automation machinery for packaging and bottling.
If all goes as planned, the company will likely make a similar offer in Washington State, where it's in the process of getting a business license to start manufacturing its products. And if Florida legalizes medical marijuana this November, G FarmaLabs intends to target that state as well for expansion.
The company's CEO, Ata Gonzalez, spoke with the Marijuana Business Daily in June about some of his plans.