Many parallels have been drawn to date between the development of the cannabis industry and the dot-com era of the 1990s, when the technology sector experienced unparalleled growth.
This week brings news of another reason to think that the comparison may be valid.
The former CEO of Tweed, a publicly traded Canadian marijuana cultivation firm, has reportedly become an overnight multimillionaire due to his investments in the company.
At least on paper.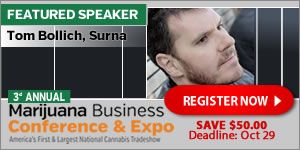 Chuck Rifici – who recently stepped down as CEO but remains on the board – owns Tweed shares that are currently valued north of 20 million Canadian dollars ($18 million). He obtained some of his shares directly, purchasing Tweed stock when it was valued at under CA$1.
The company's shares currently trade around CA$2.50.
Rifici said in late August that he would resign as CEO and assist Tweed in finding a replacement leader who was better suited to help the company reach its future goals.
Tweed has reported huge demand and even stopped accepting new customers for a time.