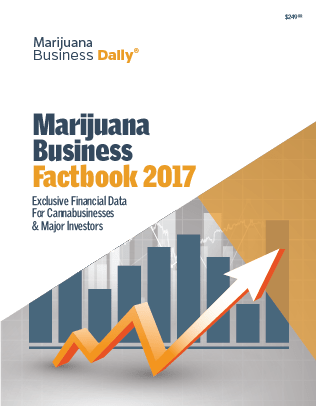 Marijuana Business Factbook 2017
Over 300 pages of all-new and exclusive financial benchmarks
Profiles of 29 MMJ and recreational states plus Canada, including sales estimates for each
Overview of potential market size for states that legalized in 2016
Estimates for job growth and retail sales through 2021
As seen in:




---
New and Updated Exclusive Financial Data for Cannabusinesses & Major Investors
The 5th edition Marijuana Business Factbook 2017 is an indispensable tool for those running and investing in cannabis businesses as well as those planning to get involved. It includes cannabis industry-wide financial stats and forecasts, specific numbers on costs, time-to-profit, revenues and profitability.
Enhanced information included in this edition:
Enhanced third-party data on retail and wholesale cannabis pricing trends
New types of data such as the soil medium growers use, the types of payments retailers accept and how much companies pay each month for banking services
Estimated job growth over the past year and going forward through 2021
State-by-State: Legal Overview, Market Data and Outlook
The Marijuana Business Factbook 2017 also provides a detailed profile for each medical and recreational cannabis state (as well as Canada), covering legal info and patient/consumer stats, sales potential, and exclusive analysis of the business opportunities and concerns.
Published: May 2017
---
Help us create the 2018 edition of the Marijuana Business Factbook! 
MJBizDaily is looking for business owners, executives or investors in the cannabis industry to provide information about operational cannabis businesses in North America. This information will be the benchmark data in the 2018 edition of the Marijuana Factbook and will provide cannabis businesses like yours with reliable data and insight into trends. Everyone who participates will receive an enhanced summary when it becomes available.
Take the survey today!