Annual Marijuana Business Factbook 7th Edition
YOUR COMPETITIVE ADVANTAGE IS HERE THROUGH FEBRUARY 2020.
Brought to you by the Editors of MJBizDaily, the Annual Marijuana Business Factbook has been the most trusted resource for business owners, investors and anyone looking to enter the cannabis industry since 2013. It's an essential guide to the cannabis industry with the most complete look at where the industry is now and where it's going.
The 7th edition has been expanded to include more unique insights, in-depth analysis and risk calculations, gained from years of editorial interviews, surveys and daily interactions throughout the cannabis industry. Featuring all the exclusive financial data, benchmarks and forecasts business operators have come to expect, and all the legal and regulation updates needed to keep you current. PLUS, three quarterly updates to keep you informed through February 2020.
The 7th edition of the Annual Marijuana Business Factbook includes:
Three quarterly updates through February of 2020: Stay up to date with the latest data from our Editors.
Updated Charts: Take advantage of the latest sales, employment and investment data.
In-depth market analysis and insight: View trends and opportunities across the industry to get a holistic view.
Operational data: For cultivators, extractors, retail and ancillaries to see how they stack up against their competitors.
State by state legal and regulatory updates: Know the facts and analysis so you can make better business decisions.
Business intelligence: Learn about best practices for avoiding common cannabis mistakes.
The Annual Marijuana Business Factbook 7th Edition provides meaningful, actionable data that allows you to make intelligent business decisions and stay ahead of your competitors.
Stay Up to Date: Your Annual Marijuana Business Factbook 7th Edition purchase includes three quarterly digital updates through February 2020. These digital updates will be automatically added to your account for ease of access.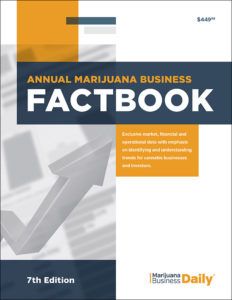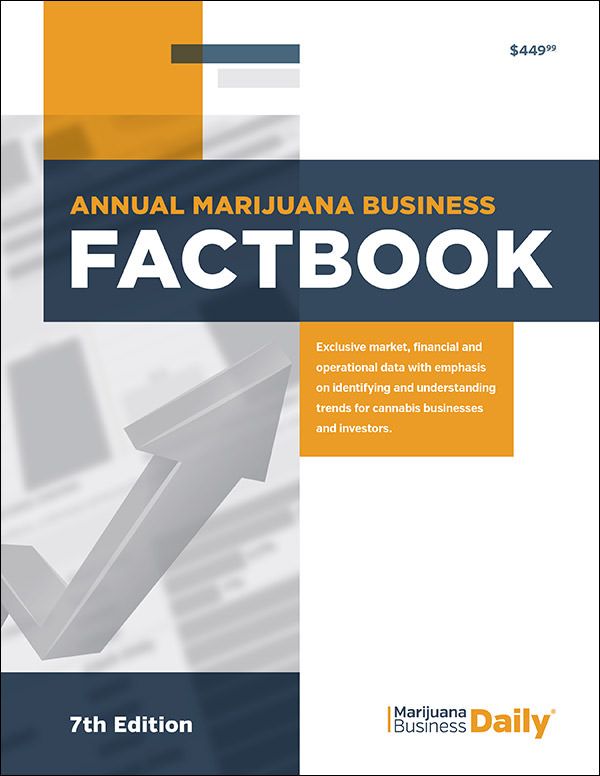 Digital Only Version

Printed Copy + Digital Version
($12 S&H for US customers, $24 for international)
---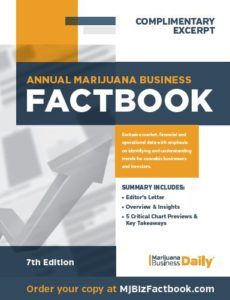 Interested in learning more? Download the Complimentary Excerpt of the 7th Edition here.
---
Annual Marijuana Business Factbook
7th Edition Sponsors:



Annual Marijuana Business Factbook
7th Edition Data Partners: