The Annual Marijuana Business Factbook 8th Edition
Exclusive U.S. Marijuana Business & Finance Data
Need realistic data and financial numbers for American marijuana-related businesses?
Download your copy of MJBizDaily's bestselling FACTBOOK 2020 for just $199.
Marijuana Business FACTBOOK 2020: 261 pages
Data new as of June 2020, including COVID impact
Market details for 36 states + DC
Cultivator, product, retail & investor financial information
NEW! An exclusive report from Headset on COVID-19 and the Cannabis Industry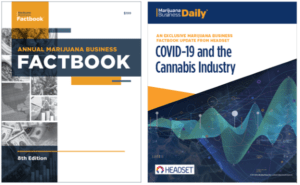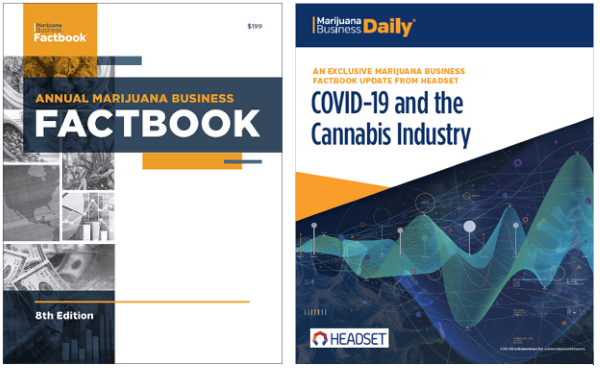 Exclusive Data for Your Business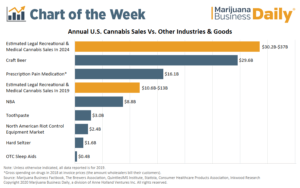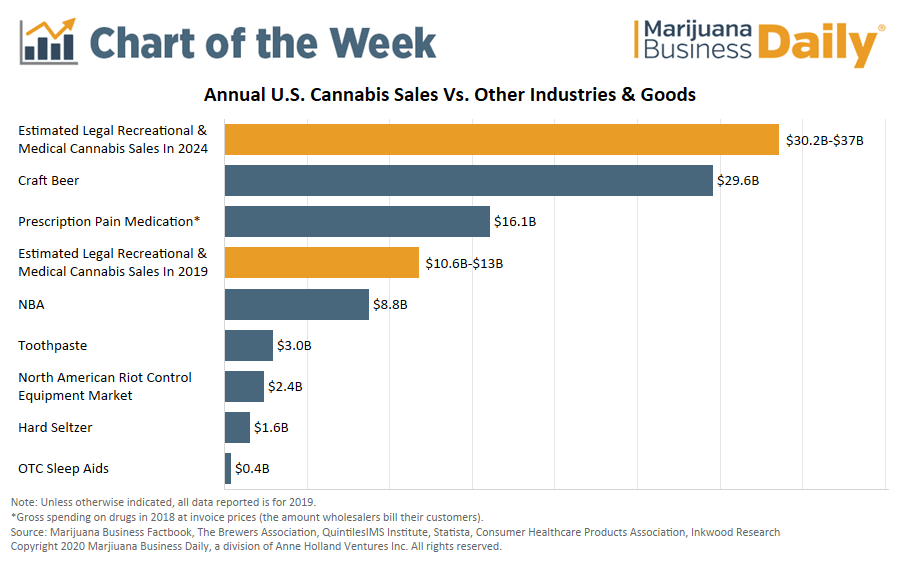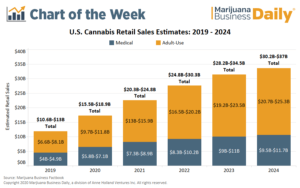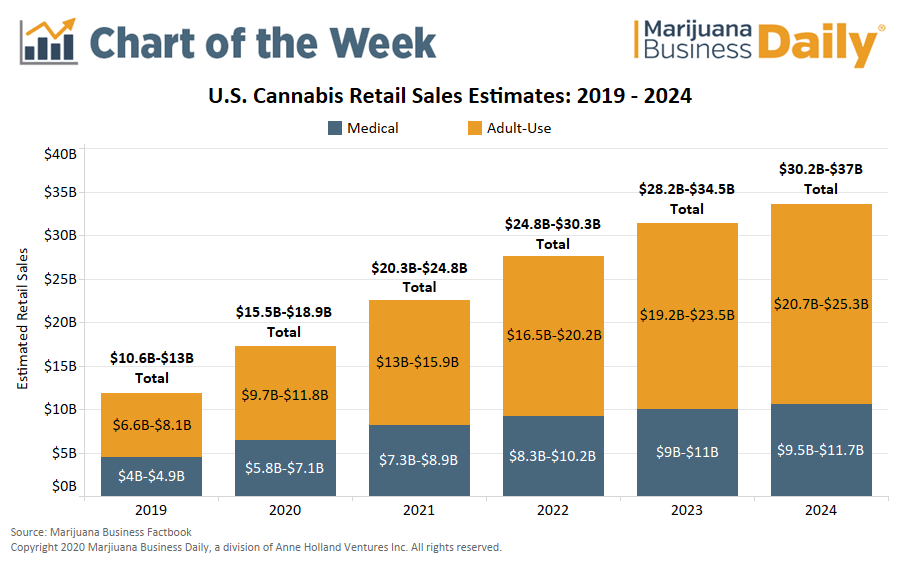 Who Benefits from the Marijuana Business Factbook
Entrepreneuers
---
Put together a business plan — or adjust it for COVID – more easily.
Get financial charts for wholesale cultivation, marijuana products and retail, including:
Revenues
Expenses
Net product margins
Typical start-up costs
Private equity
---
Check the FACTBOOK to see if company projections are realistic.
Includes:
State-by-state and niche-specific market data
How much other investors are putting into the sector
Whether COVID should change your strategy
Business owners
---
Compare your financials to the "norm." Use this data to compete,
forecast and pitch investors.
Top 10 mistakes businesses make when pitching investors
Interest rates for cannabusiness loans
Forecasts for how COVID may affect your business
Table of Contents
Chapter 1: National Cannabis Industry Facts, Figures & Trends – 1
Chapter 2: State-By-State: Legal Overview, Market Data and Outlook – 25
Chapter 3: Wholesale Cultivators: Financial and Operational Data – 175
Chapter 4: Cannabis Product Manufacturers: Financial and Operational Data – 193
Chapter 5: Cannabis Retailers: Financial and Operational Data – 213
Chapter 6: Cannabis Business Funding & Investing – 245
Appendix
Top Charts
Highest Paying Cannabis Industry Jobs
Profitability of Wholesale Cultivators: Year -Over-Year Comparison & Net Profit Margins
Annual Revenue & Operating Costs Per Square Foot for Indoor Cultivators
Fastest Growing Adult-Use Edibles & Topicals Subcategories by Market
Cannabis Product Manufacturers: Revenue, Expenses & Startup Costs
Average Basket Sizes by Market & Time Period
Profitability of Retailers in 2019
Global Cannabis Industry Investments by Sector & Year
Investors' Primary Considerations When Evaluating Cannabis Business Investments
Full List of Charts
Chart 1.01: U.S. Cannabis Retail Sales Estimates: 2014-2024
Chart 1.02: U.S. Cannabis Industry Total Economic Impact: 2019-2024
Chart 1.03: Annual U.S. Cannabis Sales Vs. Other Industries & Goods
Chart 1.04: Estimated Number Of Cannabis Businesses In The United States: 2020
Chart 1.05: U.S. Cannabis Industry Employment Estimates: 2019-2024
Chart 1.06: Number Of Full-Time Workers In The Cannabis Industry
Chart 1.07: Nationwide MMJ Patient Counts: 2014—2019
Chart 1.08: Marijuana Legalization By State
Chart 1.09: 2020 Adult-Use Cannabis Sales By Week & Market: Percent Change Vs. Same Week In 2019
Chart 1.10: Adult-Use Cannabis Sales By Month & Market In 2020: Percent Change Vs. Same Month In 2019
Chart 1.11: Monthly Adult-Use Cannabis Sales In Massachusetts & Oregon
Chart 1.12: Monthly Cannabis Sales In A Sampling Of Medical Markets
Chart 1.13: Vape Pens Share Of Adult-Use Cannabis Sales By Market & Month
Chart 1.14: Overview Of Public Cannabis Market Performance
Chart 1.15: Overview Of Cannabis Industry Investment Climate
Chart 1.16: Support For Marijuana Legalization & Portion Of U.S. Population That Has Used Cannabis In The Past Month: Breakdown By Year
Chart 1.17: Overview of Major Federal Marijuana Reform Bills In Congress
Chart 1.18: Current Status Of State Cannabis Legalization Efforts: Breakdown By Status, Bill Type & Market
Chart 1.19: Selection Criteria For Awarding Adult-Use Retail Licenses In Illinois
Chart 1.20: Adult-Use Cannabis Markets In Illinois & Michigan: Monthly Sales & Estimated Sales By 2024
Chart 3.01: Commercial Cannabis Markets That Allow Wholesale Cultivation Businesses
Chart 3.02: Number Of Cultivation Licenses & Sales-To-License Ratio In Sampling Of Adult-Use & Medical Cannabis Markets
Chart 3.03: Total Five-Year Cost Of License & Application Fees For Wholesale Cultivators In Sampling Of Medical & Adult-Use Markets
Chart 3.04: Colorado's Adult-Use Cannabis Market: Average Market Rate For Wholesale Flower & Number Of Cultivation Licenses Issued
Chart 3.05: Weekly U.S. Wholesale Cannabis Spot Index: May 2019 Through April 2020
Chart 3.06: Top Challenges For Wholesale Cultivators
Chart 3.07: Portion Of Investors Planning Investments In Wholesale Cultivation Businesses: Breakdown By Year
Chart 3.08: Wholesale Cultivator Business Expectations For 2020
Chart 3.09: Share Of Adult-Use Cannabis Sales By Year In California, Colorado, Nevada & Washington State
Chart 3.10: Total Number Of Flower Brands & Share Of Flower Sales By Brand: Breakdown By Market & Year
Chart 3.11: Colorado's Adult-Use Flower Market: Share Of Sales By Brands By Annual Revenue
Chart 3.12: Colorado & Washington State's Adult-Use Flower Market: Price Difference Of Top 10 Brands From Statewide Average In 2019
Chart 3.13: Wholesale Cultivators: What Is The Key Differentiator Of The Cannabis You Grow?
Chart 3.14: Colorado's Adult-Use Cannabis Market: Average Market Rate For Wholesale Cannabis Allocated For Retail Vs. Extraction
Chart 3.15: Profitability Of Wholesale Cultivators: Year-Over-Year Comparison & Net Profit Margins In 2019
Chart 3.16: Annual Revenue & Operating Costs Per Square Foot For Indoor Cultivators In Adult-Use Markets
Chart 3.17: Wholesale Cultivators: Typical Number Of Employees & Annual Revenue Generated Per Full-Time Employee
Chart 4.01: Manufactured Cannabis Products Hierarchy
Chart 4.02: Cannabis Products: Specialty Goods Vs. Commodities
Chart 4.03: Adult-Use Cannabis Markets In California, Colorado, Nevada & Washington State: Combined Cannabis Product Sales & Share
Chart 4.04: Top 10 Highest-Paying Cannabis Industry Jobs In 2019
Chart 4.05: Top Challenges For Cannabis Product Manufacturers
Chart 4.06: 2019 Adult-Use Cannabis Sales & Sales Percent Change From 2018: Vape Pens, Concentrates & Edibles
Chart 4.07: 2019 Adult-Use Cannabis Sales & Sales Percent Change From 2018: Beverages, Capsules, Tinctures And Sublinguals & Topicals
Chart 4.08: Fastest-Growing Adult-Use Edibles & Topicals Subcategories From 2018 To 2019 By Market
Chart 4.09: Concentration Of Colorado & Washington State's Adult-Use Cannabis Product Market: Breakdown By Category & Year Using HHI
Chart 4.10: Colorado & Washington State Adult-Use Cannabis Markets: Number Of Retailers & Brands Per Category By Year
Chart 4.11: Equivalized Item Prices By Year & Market: Concentrates & Vape Pens
Chart 4.12: Equivalized Item Prices By Year & Market: Edibles, Topicals & Beverages
Chart 4.13: Vape Share Of Adult-Use Cannabis Sales By Month & Market
Chart 4.14: Timeline Of Significant Partnerships Between Cannabis Companies & Mainstream Brands To Create Infused Cannabis Products
Chart 4.15: Excise Tax Rates In Illinois' Adult-Use Cannabis Market
Chart 4.16: Year-Over-Year Comparison Of Cannabis Product Manufacturers' Business Expectations For The Next 12 Months
Chart 4.17: Cannabis Product Manufacturer Overview: Revenue, Expenses & Startup Costs
Chart 4.18: Portion Of Profitable Cannabis Product Manufacturers & Net Profit Margins In 2019
Chart 4.19: Cannabis Product Manufacturers: Number Of Full- & Part-Time Employees
Chart 5.01: Retail Cannabis Market Overview: Number Of Markets & Estimated Retail Sales By Year
Chart 5.02: Retail Cannabis Sales By Market & Year
Chart 5.03: Estimated Sales In 2024 & 2020-2024 CAGR In Sampling Of MMJ Markets
Chart 5.04: Estimated Sales In 2024 & 2020-2024 CAGR In Sampling Of Adult-Use Markets
Chart 5.05: Number Of Medical & Adult-Use Dispensaries & Sales To Dispensary Ration In Sampling Of Adult-Use & Medical Cannabis Markets
Chart 5.06: Number Of Adult-Use Cannabis Retail Stores Per 100,000 Residents
Chart 5.07: Total Five-Year Cost Of License & Application Fees For A Sampling Of Medical & Adult-Use Cannabis Markets
Chart 5.08: Retail Business Structure Overview By Market
Chart 5.09: Overview Of Medical Cannabis Markets With Product Sales Restrictions
Chart 5.10: Impact Of Legalizing Adult-Use Cannabis On MMJ Patient Counts In Colorado, Illinois, Massachusetts, Nevada & Oregon
Chart 5.11: Top Challenges For Cannabis Retailers
Chart 5.12: The Impact Of 280E On A Retailer's Bottom Line
Chart 5.13: Cannabis Retailers: What Is Your Store(s) Key Differentiator?
Chart 5.14: 2019 Adult-Use Cannabis Sales & Sales Percent Change From 2018: Breakdown By Category & Market
Chart 5.15: Share Of Adult-Use Cannabis Sales By Year, Category & Market
Chart 5.16: Colorado & Washington State Adult-Use Cannabis Sales By Year
Chart 5.17: Colorado & Washington State's Adult-Use Cannabis Market: Total Units Sold & Average Equivalized Item Price By Category & Year
Chart 5.18: Colorado & Washington State's Adult-Use Cannabis Market: Average Items Per Basket & Median Number Of Trips Per Shopper
Chart 5.19: Adult-Use Retail Cannabis Profit Margins: Breakdown By Category, Market & Year
Chart 5.20: Year-Over-Year Comparison Of Retailer's Business Expectations For The Next 12 Months: Breakdown By Market Served
Chart 5.21: 2020 Adult-Use Cannabis Sales by Week & Market: Percent Change Vs. Same Week In 2019
Chart 5.22: Average Basket Sizes by Market & Time Period
Chart 5.23: Share Of Adult-Use Cannabis Sales In 2020 By Market, Category & Time Period
Chart 5.24: Share Of Adult-Use Flower Sales By Week & Price Point In Washington State
Chart 5.25: Cannabis Retailers: Startup Costs By Business Type & Market Served
Chart 5.26: Cannabis Retailers: 2019 Revenue By Business Type & Market Served
Chart 5.27: Profitability Of Retailers In 2019
Chart 5.28: Number Of Retail Store Locations & Square Feet Of Retail Space Per Store For Dispensaries & Rec Shops
Chart 5.29: Retailers: Typical Number Of Full- & Part-Time Employees By Business Type & Market Served
Chart 6.01: Global Investment Activity In The Cannabis Industry By Company Type & Year
Chart 6.02: Global Cannabis Industry Investments By Sector & Year
Chart 6.03: Global Cannabis Stock Index Performance Versus S&P 500: May 6, 2019, Through May 4, 2020
Chart 6.04: Portion Of Publicly Traded Companies Missing EBITDA Estimates: Breakdown By Quarter & Company Type
Chart 6.05: Portion Of The Population That Has Used Cannabis In The Past Month: Breakdown By Year, Region & Age Group
Chart 6.06: Adult-Use & Medical Dispensary Licenses: Total Issued In U.S. Compared To Sampling Of Publicly Traded U.S.-Based Cannabis Companies
Chart 6.07: Source Of Capital To Launch: Operational Plant-Touching Cannabis Businesses Based In The U.S.
Chart 6.08: Percentage Of Operational Marijuana Businesses Actively Seeking Funding Or Planning To In 2020
Chart 6.09: Typical Amount Of Funding Operational Cannabis Businesses Are Currently Seeking
Chart 6.10: Interest Rates Paid By Operational Plant-Touching Cannabis Companies
Chart 6.11: What Primary Factor Would Cause Active Investors To Stop Funding Cannabis Businesses?
Chart 6.12: Cannabis Industry Investors: Typical Investment Amount To Date, Additional Investment Amount Planned For 2020 & Size Of Each Investment
Chart 6.13: Types Of Cannabis Businesses Investors Have Previously Funded & Plan To Fund In 2020
Chart 6.14: Funding Stages Targeted By Cannabis Investors
Chart 6.15: Investors' Primary Considerations When Evaluating Cannabis Business Investments
Chart 6.16: Top Mistakes Private Cannabis Businesses Make When Seeking Funding, According To Investors
Thank You to Our Annual Marijuana Business Factbook 8th Edition Data Partners