The U.S. Food and Drug Administration has taken up a request by the Drug Enforcement Agency to study whether marijuana should remain classified as a Schedule 1 drug.
The study could lead to marijuana being removed from the Schedule 1 category of the Controlled Substances Act.
A reclassification would have a sweeping impact on the U.S. cannabis industry. It could eliminate the industry's problems with banks and allow more states to legalize the plant.
It could also open the door for major corporations to enter the industry.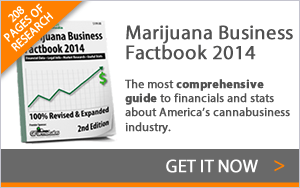 According to Douglas Throckmorton, Deputy Director for Regulatory Programs at the FDA, the agency will make a recommendation after conducting an "eight-factor analysis" that examines marijuana's abuse potential, its pharmacological effect and risk to public health, among other factors. Throckmorton did not give a timeline for the study's conclusion.
The FDA reviewed marijuana's status for the DEA in 2001 and 2006 and recommended that it remain a Schedule 1 drug. But public and political sentiment toward the plant has changed greatly since 2006, and the shift could impact the FDA's assessment.