New polling using the specific wording of Florida's medical marijuana ballot measure shows increasing support among registered voters.
While a survey conducted in the summer by Quinnipiac University indicated nearly 90% of likely voters are supportive of medical marijuana, a recentpoll conducted by Gravis Marketing shows about 64% of registered voters said they would cast a "yes" vote on Amendment 2.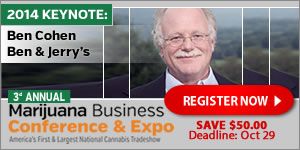 The key difference: the Gravis poll asked respondents specifically about the ballot measure, rather than about general support for the concept of medical marijuana.
The 64% of respondents who indicated they favor Amendment 2 is an improvement over previous Gravis polls using the same survey language, which had placed the likelihood of passage right at the 60% approval threshold required by Florida law to pass the measure.
Nonetheless, support still appears worryingly close to the required level, particularly when a poll's margin of error is considered.
Florida has seen significant investment and business activity by entrepreneurs in anticipation of the November vote.