With Monday looming as the deadline in Illinois for medical marijuana business applications, a number of MMJ operations are still trying to pull together local support in various towns where they're hoping to set up shop, and some municipalities are taking financial advantage of that.
The Chicago suburb of Elk Grove Village, for example, has proved popular with cannabis license hopefuls. Nine separate companies have established preliminary agreements with the city to pay $75,000 to local nonprofits and donate 5% of their profits to the town.
That's becoming a standard practice around the Chicago metro area, with more municipalities instituting financial bars for MMJ companies to meet in order to set up an operation.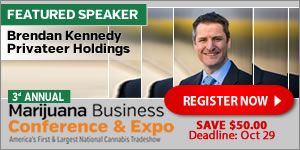 In McHenry, a northwestern suburb, town officials are looking at approving a MMJ cultivation center, and they want the firm to pony up 1.75% of net earnings within their first five years in business and 3.5% after that, along with a $10,000 donation to the McHenry Riverwalk and historic Petersen Farm.
The application process in Illinois for 60 MMJ dispensaries and 21 cultivation centers ends on Sept. 22.