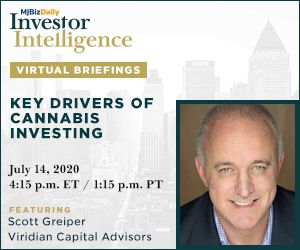 Date: Tuesday, July 14th
Time: 4:15 p.m. ET | 1:15 p.m. PT
Investing During COVID: Key Drivers of Capital in Cannabis
The cannabis industry has been hit hard by shifts in investing behavior. The COVID-19 pandemic – and the changes around doing business that came with it – exacerbated those shifts.
In this webinar, Scott Greiper, president of Viridian Capital Advisors, will share data and insights on:
How investment behavior has changed and the key drivers behind the shifts.
Where opportunities for cannabis investors exist – and where risk has increased.
The outlook for cannabis investing for the rest of 2020.
Speaker: Scott Greiper founded Virdian Capital Advisors, a cannabis-focused financial and strategic advisory company, in New York in 2014. He also is president and founding partner of Secure Strategy Group, which backs emerging companies in sectors that include technology and security. In a career that spans 30 years, Scott has played key roles in mergers and acquisitions as well as raising more than $500 million in capital. Before founding Secure Strategy and Viridian, he served as a principal and senior analyst at C.E. Unterberg, Towbin investment bank.
Fill out this short form to access the webinar recording: