Welcome to Investor Intelligence Virtual Briefings — Know the Nuances: Share Structure to Leasebacks and Taxes Between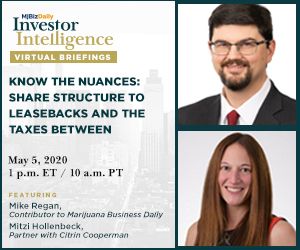 While cannabis businesses are adopting a more mature approach to operations, the industry itself has many key nuances that may hinder successful investments.
In this free webinar with Q&A, Mitzi Hollenbeck, Partner with Citrin Cooperman, and Mike Regan, Contributor to Marijuana Business Daily, will explore topics such as:
How cannabis ownership structures can divert upside away from common equity.
The business and investment implications of tax regulations such as 280E.
Where adjacent opportunities exist.
Speaker: Mitzi Hollenbeck, Partner with Citrin Cooperman
Mitzi Hollenbeck, CPA, CFE, is a partner in Citrin Cooperman & Company LLP's regional Metro Boston offices (Braintree, MA and Providence, Rhode Island) with over 15 years of experience providing accounting and audit services, tax planning, business consulting, and forensic services. Mitzi has a unique perspective on the cannabis business, having been a local elected official in the town of Lakeville, MA, where she is able to understand the local regulatory challenges facing this industry. Having established a network of cannabis advisors, Mitzi is able to translate her knowledge to the needs of this unique industry as the industry evolves and is able to give you industry experience from working with actual growers, distributors, and applicants who have already navigated these waters. She has experience working with cultivators, dispensaries, cannabis transportation companies, and cannabis-related businesses in both the United States and Canada. 
Speaker: Mike Regan, Contributor to Marijuana Business Daily
Mike has more than 20 years of experience primarily analyzing and investing in small capitalization stocks at long/short equity hedge funds Roubaix Capital and Hawkshaw Capital. With experience investing in most sectors including consumer goods, retail, industrials and commodities, Mike brings a focus on company business models and earnings power across the cycle, management and ownership structures, and coherence of the company's narrative. He began his career covering the cable and satellite sectors at DLJ, Credit Suisse and Deutsche Bank, and earned a BS in finance from Georgetown University and an MBA from MIT Sloan.