Webinar Series: Regulations and Opportunities in Key Latin American Markets
August 3-6, 2020
The cannabis industry continues to expand internationally, with Latin America and the Caribbean becoming increasingly more difficult to ignore for companies with global aspirations. The geographical region that stretches from the southern border of the United States to the southern tip of South America, including the Caribbean, is home to about 650 million people, the vast majority of whom live in a country with some sort of legalized medical cannabis.
The sheer number of inhabitants, ideal growing conditions in large parts of the region, and jurisdictions in favor of production for export, signal potentially huge business opportunities. However, each country is its own distinct market with unique regulations and cultures.
Brought to you by Marijuana Business Daily International, this webinar series will provide a deeper look at key markets to give businesses looking to expand a better understanding of how to capitalize on the opportunities that exist. These webinars are for cannabis business operators looking to expand into Latin America as well as investors and current Latin American operators looking to learn more about the region.
The four comprised webinars will provide the latest regulatory and market updates by renowned industry experts in the key countries: Uruguay, Colombia, Brazil, and Peru, including what can be expected by the end of 2020 in each of these jurisdictions.
These webinars were conducted in Spanish, however there are English scripts available for download. To read the below webinar descriptions in Spanish, click here.
By registering for this event, you agree that we may share your registration contact information with our sponsor. The permission is granted solely for the purpose of sending you information about the sponsor's products and services.
---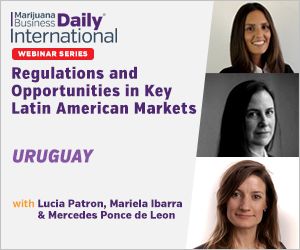 Monday, August 3 | Uruguay
Uruguay was the first country to federally legalize the production of marijuana for industrial, medical and recreational purposes. But the market is far from fully operational. The new government (since March 2020) is committed to supporting the industry, including changing regulations that would simplify exporting from the country. Our panel examines the current state of the industry in Uruguay and what operators can look forward to in the coming year.
Speakers:
Lucia Patron: Lucia is a senior lawyer and a member of the Corporate and M&A team at Hughes & Hughes, one of Uruguay's top law firms. Throughout her career she has worked across multiple law disciplines providing advice to local and foreign companies, as well as regulated entities, in their day-to-day business and carrying out multi-jurisdictional M&A, due diligence processes, public tenders and international commercial transactions. Lucia leads H&H's cannabis practice, where she supports clients setting up their companies in Uruguay, provides advice on regulatory and corporate issues as well as on contract drafting and negotiation. Lucia holds a Juris Doctor degree from the Universidad de la República (Uruguay) and a Master of Laws from the University of Melbourne (Australia).
Mariela Ibarra Dutra: Associate Consultant at ADS Asesores Consultores, Uruguay, University of the Republic, Faculty of Agronomy in 1997 and Master of Agricultural Sciences in 2011. Postgraduate courses and specialization in seeds science and technology, biotechnology and intellectual property, good agricultural practices, project management and technology transfer. With twenty years of experience in the public and private sector, providing advice to agro-industrial companies and institutions, breeding and selection of varieties, regulatory affairs, intellectual property, evaluation and auditing of agro-medicinal projects.
Mercedes Ponce de León: Co-founder and director of EXPOCANNABIS URUGUAY and member of the Directive Commission of the Uruguayan Chamber of Medical Cannabis Companies of Uruguay (CECAM). Active militant since 2004 in favor of the Regulation of Cannabis in Uruguay. From 2008 to 2013 she participated in the Medicinal Cannabis industry in California, United States. Since 2014 she co-founded and directed EXPOCANNABIS URUGUAY, the main platform of information and articulation of the cannabis and hemp industry in Uruguay. Mercedes is a local referent in Cannabis and has promoted the creation of the Uruguayan Chamber of Medical Cannabis Companies where she actively participates in the Directiva Commission since 2018.
---
Tuesday, August 4 | Colombia
Colombia has been a major target for foreign investment in its cannabis industry, but the domestic market is still in the nascent stages. Our panel looks at how the market is changing, as well as examines strategies to raise money in difficult times.
Speakers:
Ana Serrato: As Pharma Manager for Latin America, Ana has an extensive background in the pharmaceutical industry. Her experience is reflected in the leadership positions she has held in the main multinationals in the sector, as well as for having been key in the start-up of 3 biotechnology startups in Colombia. She joined Clever Leaves at the beginning of 2019 and during this period she has participated in the implementation of operations and consolidation of the sales team in Germany. Since this year, she leads the Pharma division for Latin America. Ana began her career as a researcher and quickly moved into the pharmaceutical industry. Passionate about new therapeutic areas and generating sustainable access channels for patients, her career has had an emphasis on orphan and high cost diseases, mainly.
Camilo de Guzman: Camilo is General Counsel & VP of Regulatory and Corporate Affairs for Natuera and also serves  as Corporate Secretary. In this position, he oversees of all the company's legal, regulatory, and corporate affairs, as well as its security and stakeholder management. Prior to joining Natuera, Camilo worked as Managing Partner at a strategic advisory firm, where he advised several matters in Latin America on national security, M&A, corporate restructuring, and crisis management issues. Camilo previously worked as an attorney in Proskauer Rose LLP in New York City, where he worked on various commercial lawsuits and transactions with recognized multinational companies in the petroleum and consumer goods industries. He holds a J.D. from The George Washington University Law School and a B.A. Economics from McGill University.
César Gutiérrez: Managing Director, Bastion Capital Advisors César Gutiérrez is a senior executive with 20-plus years of experience and a successful track record in executing M&A, capital raising, and corporate strategy deals ranging from planning, structuring to financial close, integrations, and beyond. He founded Bastion Capital Advisors in 2013. Prior to this, he was part of KPMG Global Infrastructure based in Canada. He was also vice president of M&A of the largest F&B conglomerate in the Caribbean. Gutiérrez holds an MBA from IE, a master's in corporate finance, and a bachelor's degree in accounting majoring in financial management. He has lectured on M&A and investment banking at the most prestigious business schools in Colombia.
---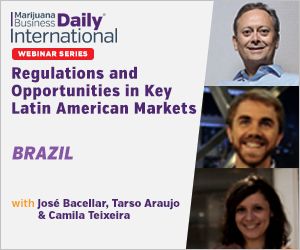 Wednesday, August 5 | Brazil
Brazil is the largest domestic market in South America, yet it is completely dependent on imports because cultivation for commercial purposes is not allowed. Our panel looks at the opportunities within the country and changes that may be ahead for this attractive population.
Speakers:
José Bacellar: José Bacellar is uniquely qualified to lead efforts across multiple jurisdictions, having assisted a number of North American companies to expand into Latin America. He brings extensive professional experience in the pharmaceutical industry and has relevant experience in the medical cannabis industry. Prior positions he has held include Head of Business Development for Canopy Latam; Interim COO at Canopy Health (UK); Head of Business Development at ACIC Pharmaceuticals (Canada); CEO at Vetnil (Brazil); and CEO & President at Bombril S/A (Brazil).
Tarso Araujo: Tarso is one of the most influential people in the emerging Brazilian cannabis industry. As a journalist and documentary filmmaker, he produced content on cannabis policy for more than a decade, before becoming Chief Business Development Officer of Entourage Phytolab, a Brazilian pioneer in the research and development of cannabis-based medicines.
Camila Teixeira: CEO & Founder of INDEOV, the first company to facilitate access of cannabis products in Brazil. Camila has been working with medical cannabis since 2014. With experience in the US and Brazil, she has spent the last few years on the mission of bringing therapeutic relief to chronic patients, connecting patients, physicians to cannabis producers. Committed to positively impacting people's lives through cannabinoid therapy, she has contributed to the expansion of the cannabis ecosystem in Brazil, supporting different projects in the area.
---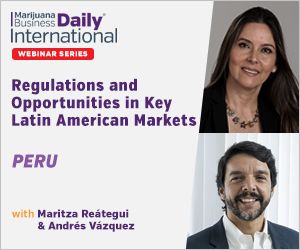 Thursday, August 6 | Peru
Peru is currently advancing its domestic regulations and licenses to create a domestic market, but immediate revenue opportunities to export to Peru exist now. Our panel examines the opportunities and challenges for operators looking at this South American country.
Speakers:
Maritza Reátegui, Partner, Rodrigo, Elías & Medrano abogados. Maritza counsels on pharmaceutical and biotechnology matters, such as cosmetics and healthcare products, medical devices, natural products, cannabis as a medical use, food and beverages, and agrochemical industries. She represents clients on legal proceedings and in strategy design for sanitary registry filing and protection, data protection of trial, clinical studies, right to petition and sanction process before administrative authorities such as Input and Drug Agency (DIGEMID); General Environmental Health Agency (DIGESA); National Service for Agricultural Health (SENASA); and National Health Institute (INS).
Andrés Vázquez, President at Cann Farm. Executive with over 20 years of international experience in leading companies of the agribusiness, healthcare, retail and logistics sectors. Currently serves as President of Cann Farm Holdings. Andrés is also a founder and member of the Executive Committee of ASOPECANNA (Peruvian Association of the Cannabis Industry), member of the Board of Asociación Cannabis Gotas de Esperanza, and member of the Board of COMSALUD (healthcare business association, part of Lima Chamber of Commerce). Biologist from Universidad Peruana Cayetano Heredia (Peru), Andrés holds a MS in Agronomy and Agribusiness Development (École Nationale Supérieure des Industries Agricoles et Alimentaires at Toulouse, France), and a Diploma on Top Executive Management from IPADE (Mexico). 
Please fill out the form below for access to the webinar video recordings and English transcripts.