A Colorado marijuana edibles company is under increasing heat as a lawsuit filed against its Denver County Fair booth grows.
The class action suit, which was filed Aug. 25, now has seven plaintiffs from as far away as Oklahoma and Wisconsin who all contend they were made ill by infused chocolates given to them for free. Several plaintiffs say they were "expressly told" by representatives of the company that the chocolates did not contain THC.
Beyond Broadway LLC, which has also operated under the brand names LivWell and Full Melt Chocolate, operated a booth at the "Pot Pavilion" at the Denver County Fair last month. The company denies deliberately handing out infused edibles to the plaintiffs.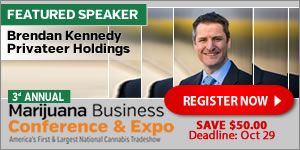 "If this occurred it was without our knowledge and was not sanctioned by our company," Beyond Broadway said in a statement.
But simply saying it didn't know that the chocolates were infused with cannabis might not be enough to get the company off the hook. Negligence suits are common in the mainstream business world, and as cannabis expands in popularity the legal exposure will also grow.
The suit speculates that there may be more than 100 people who experienced adverse effects after unknowingly ingesting THC-laced chocolate, so as the suit progresses, additional plaintiffs may sign on.