A legal battle royale between two cannabis consulting firms in Los Angeles will pit industry insiders and former friends against each other in a case that exemplifies how cutthroat the marijuana business has become.
In one corner is Avis Bulbulyan, CEO of Siva Enterprises and a member of the California Cannabis Advisory Committee, which works closely with the state Bureau of Cannabis Control to shape marijuana policy.
In the other corner is Lance Ott, previously CEO of Washington state-based Guardian Data Systems and a former board member of the National Cannabis Industry Association.
After a brief stint at Siva, Ott is now an executive with Cirrata, a new L.A.-based marijuana consulting company.
Both men also serve on the L.A. Cannabis Task Force, Bulbulyan as president and Ott as a member of the group's regulatory advisory board.
Despite their shared interest in the marijuana industry, Bulbulyan
filed suit Friday in federal court
against Ott and four other executives at Cirrata, alleging the former Siva employees executed an "illegal scheme" to "loot (Siva) of its proprietary data … to start a rival company."
In the process, the suit alleges, the five broke multiple laws, including one that could lead to jail time.
The suit further alleges the five Cirrata executives have engaged in attempts to damage Bulbulyan's credibility and to allow Cirrata to siphon cannabis business clients away from Siva.
The suit requests:
A temporary restraining order against the five defendants and Cirrata.
A permanent injunction to prevent Cirrata from using any allegedly stolen business information.
An unspecified amount of monetary damages.
Though out-of-court settlements are typical in such disputes, both sides say they're prepared to go to trial.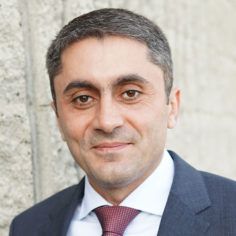 "I'm going absolutely every single step all the way to the very end – every last penny I've got, every last nickel I've got. This is going all the way to the end. I want my day," Bulbulyan told Marijuana Business Daily.
"To me, my reputation is absolutely everything. I won't change it for any dollar amount."
Attorney Steve Baghoomian, who is a founding executive at Cirrata and a defendant in Bulbulyan's lawsuit, denied the allegations and promised a fiery countersuit he said would detail "illegal activity" at Siva, ranging from "drug abuse to financial crimes."
"I have no interest in settling this whatsoever … If it goes to trial, it goes to trial," Baghoomian told MJBizDaily.
"The scope of what you're going to see coming out – this stretches the entire gamut. This is going to look like a bad episode of 'American Greed,'" he added, referencing CNBC's true crime TV series.
The allegations
According to the lawsuit, Bulbulyan hired Ott and Baghoomian, along with three other defendants – David Yeager, Colton Lasater and Charles Christopher – to work at Siva between October 2017 and February 2018.
Ott, who befriended Bulbulyan in 2014, was hired as Siva's chief strategy officer last fall. His former company, Guardian Data Systems in Vancouver, Washington, was administratively dissolved this year after its business registration expired in December, according to secretary of state records. Baghoomian, Yeager, Lasater and Christopher were subsequently hired at Siva.
The suit charges that between October 2017 and January 2018, Ott, Baghoomian and Yeager allegedly began conspiring to steal Bulbulyan's clients and proprietary information, including business strategies, onboarding documents, operations manuals, market data and more.
Ott, Baghoomian and Yeager allegedly set plans to form Cirrata as early as January, including searching for office space for the new consulting firm.
All five defendants began cutting Bulbulyan out of intraoffice communications while they were still employed at Siva to conceal their plans, according to the suit.
They also allegedly reorganized Siva's Microsoft Outlook so certain emails would be deleted without Bulbulyan seeing them and arranged meetings with potential clients at times when they knew he would be unable to attend.
Between March 23 and April 2 of this year, all five either resigned from Siva or were terminated.
The suit alleges that before his firing, Yeager stole 59 confidential files from Siva, modified and deleted various files "in an attempt to sabotage and create chaos" for the company and changed administrative settings in an internal Siva computer system "to prevent Bulbulyan from being able to gain access."
Bulbulyan said in the suit he discovered around early April that Ott, Yeager and Baghoomian had been working behind his back to steal Siva's proprietary information. Bulbulyan's revelation came, in part, because Baghoomian and Yeager left undeleted emails detailing their work in setting up Cirrata.
Bulbulyan's subsequent investigation revealed "substantial details of theft" by all three, according to the suit, "as well as strong corroborating evidence of coordination and conspiracy between (Ott, Yeager, Baghoomian, Lasater and Christopher) to misappropriate and convert Siva's intellectual property … to build and maintain a competing business."
According to California Secretary of State records, Cirrata was incorporated April 12. But Cirrata's website domain was registered March 12, "while (the defendants) were all employed by and officers of Siva," according to the suit.
Since leaving Siva, the suit alleges, the defendants have also "continued to disparage" Bulbulyan and Siva through online employer review sites such as Glassdoor and Yelp.
Online comments refer to Bulbulyan as a "compulsive liar," a "conman extraordinaire," a "scam artist," a "two bit hustler" and accuse Siva of "ripping off" clients. The comments even suggest Bulbulyan is depressed, going through a divorce and that Siva is insolvent.
Bulbulyan says the claims are false.
His lawsuit also accuses four of the defendants of breaking California criminal laws regarding illegal computer access and data theft, a crime that could be punishable by jail time should a prosecutor choose to take up the case.
A long fight?
Ott, Yeager, Lasater and Christopher could not be reached for comment, but Baghoomian called the suit "baseless" and "meritless."
"We intend to bring a very, very forceful counterclaim that's going to expose a lot of questionable – likely illegal – activity on behalf of Avis," Baghoomian said.
He declined to specify what he was alleging, other than "drug abuse" and "financial crimes" and said those details would be outlined in Cirrata's countersuit, which will likely be filed within a few weeks.
Baghoomian contended he was fired for raising concerns about potentially illegal activity.
"When I brought these things to Avis' attention, that's why I was let go," Baghoomian said.
Bulbulyan, meanwhile, said there's "nothing they can come to me with on settlement terms. They all have to leave (the cannabis industry)."
Regardless of the outcome, the case is serious and not uncommon in the increasingly contentious marijuana industry, said San Francisco-based attorney Katy Young, who specializes in legal business disputes.
Young said she doubts the case will go to trial, but if it does, it could take 12-18 months to play out.
She also predicted a verdict in Bulbulyan's favor could "cripple" Cirrata because the case could deliver millions in damages to the plaintiff.
Bulbulyan contends in the suit that, because of the defendants' actions, he lost $20 million in investment money for a large project.
He also told MJBizDaily he lost almost $3 million in the first quarter of 2018 on deals that weren't solidified, as well as at least five business clients to Cirrata because of the defendants' actions.
The only reason Siva is still running is because of his reputation within the industry, Bulbulyan said.
"The takeaway is that entrepreneurs have to watch their own data traffic," Young said. "If (Bulbulyan) had someone watching the email traffic – which an employer is allowed to do – he would have seen earlier on that employees were forwarding emails to their own personal emails.
"It's a cautionary tale in data security. It's a cautionary tale in checking up on what your employees are doing. Whenever you put someone in a position of trust, you're vulnerable."
More details about this situation are available here and here.
John Schroyer can be reached at johns@mjbizdaily.com