When the Denver Broncos and Seattle Seahawks advanced to the Super Bowl earlier this month, the mainstream media quickly pointed out that both cities are epicenters for the country's recreational marijuana industry.
Since then, cannabis businesses in both cities have been rolling out football-themed advertising, discounts and even marijuana strains to capitalize on the extra attention.
These products have been a hit with customers, providing cannabusinesses with some solid additional revenue. According to Queen Anne Cannabis Club collective owner Nate Johnson, the Seattle company's business surged after the Seattle Times reported on its "Beast Mode" strain, which incorporates the nickname of Seahawks running back Marshawn Lynch.
"Tons of new patients came in, newspaper in hand," Johnson said. "We were swamped yesterday."
But there are risks in trying to capitalize on the Super Bowl as well, as some of these businesses could run into legal issues and other challenges given the stigma surrounding cannabis.
Different Rules for Cannabis Companies?

Piggybacking on the Super Bowl is hardly a new tactic for local businesses, as the event is the most lucrative advertising platform in the United States, and will be watched by 110 million Americans. Local delis debut sandwiches named after star athletes; car dealership owners don team jerseys for their low-budget commercials; even radio stations create team-inspired jingles to attract listeners.
And all of them do so without the consent of the teams, the NFL or players.
But whether marijuana businesses are allowed to proceed with similar latitudes remains to be seen. NFL Spokesman Greg Aiello confirmed to the Marijuana Business Daily that the NFL cannot sign official marketing partnerships with cannabis businesses because marijuana is banned under the league's drug program.
But the league, teams or players could always threaten marijuana businesses with cease and desist letters if they are unhappy with the way their names or likenesses are being used to market products.
The most publicized instance of this happened this past September, when the Denver dispensary Good Meds began selling hybrid strains named after quarterbacks Peyton and Eli Manning. After the story was picked up by the mainstream sports media, a lawyer representing Peyton Manning asked the dispensary to stop selling the strain, because it did not have his permission to use his likeness in selling marijuana.
Fred Huerta, manager of Good Meds, confirmed that owners complied with the lawyer's request. They renamed the Peyton Manning strain "Sherriff," and according to Huerta, people still come in asking for the Peyton Manning strain. They are happy to buy Sherriff instead, Huerta said.
"It was selling like crazy after [the news reports], and it still sells now," Huerta said. "Regardless of the name, it didn't really matter. It's still so popular."
Potential for Trademark Disputes
Had Manning actually sued the dispensary, it's unclear whether he would have had a case. A player, team or league would need to prove that having his name attached to a marijuana product was in some way defamatory. With attitudes toward marijuana changing in Colorado and Washington State, this could prove more difficult than expected.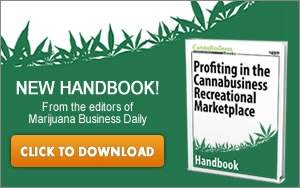 The other tactic players sometimes use to fight unofficial marketing is to register their names or nicknames for trademarks in specific product categories, such apparel.
But Richard Symmes, a Seattle-based lawyer who has worked in sports endorsements and trademark disputes, believes marijuana businesses could have the upper hand here. If Lynch tried to sue a dispensary for naming a strain "Beast Mode," he could very well lose, because federal and state governments have yet to recognize trademarks on marijuana.
Lynch has reportedly registered the trademark in clothing and hats, with trademarks pending in a handful of other consumer products.
But Symmes said the threat of litigation from teams and leagues is usually enough to get businesses to change the name.
"Most people stop once they get a letter," Symmes said. "Law is expensive."
How are Companies Capitalizing?
The threat of litigation from Peyton Manning could be affecting the Denver-area businesses. A perusal of area recreational and medical marijuana menus found no strains named after Broncos players. Instead, businesses have found other ways to advertise. Many stores have posted Broncos branding on their facebook pages, and are offering discounts and deals around the game.
And the dispensary LivWell is selling vintage T-shirts emblazoned with the slogan "Mile High."
In Seattle, dispensaries and collectives are rolling out a variety of Seahawks-themed products. West Coast Wellness medical collective is selling a Purple Afgoo strain of marijuana called "Russell Wilson," named after the Seahawks quarterback, and another strain called "12th Man," which references the city's loud football fans.
The dispensary Greenworks Northwest is selling a limited edition "Bud Bowl" T-shirt, and is also carrying the 12th Man strain. And Queen Anne Cannabis Club sold out of marijuana cupcakes topped with Seahawks helmets made from frosting.
The Seattle Medical Marijuana Association has parked it's marijuana-branded Volkswagen bus, called the "Canna-Bus" outside Century Link Field. And the business is currently debating a special promotion for the game.
"We are even considering closing early," said SMMA owner Karl Keich in an email. "Everyone in Seattle is going to be glued to their TV."