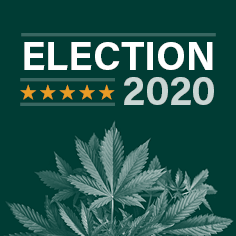 Lobbying for cannabis reform in the U.S. Congress has evolved from a fringe issue a decade ago to a political priority that, this year alone, has absorbed more than $3 million and scores of registered lobbyists in Washington DC.
And depending on how the Nov. 3 general election plays out, the marijuana lobbying landscape could become even pricier – and crowded – in 2021 and beyond, insiders said. Though that assumes major federal reform might be in the offing.
If Congress moves closer to passing a bill to legalize marijuana, it's likely lobbying efforts and spending will intensify, given that a crucial question is how the federal government would regulate a national cannabis industry.
Such a question would interest corporate behemoths in the pharmaceutical and alcohol industries, for instance, as well as other sectors wanting to influence how any federal cannabis regulatory framework is crafted.
"I would certainly expect additional attention and activity, especially if the Democrats take over the Senate," said Steve Fox, strategic adviser at the Cannabis Trade Federation (CTF).
"If the Democrats take the Senate, then (cannabis reform) really has the potential for being a live issue, and once it's a live issue, there are all kinds of groups and industries that will have an interest in how it turns out."
Who's spending on what
According to an analysis of federal lobbying disclosure records by Marijuana Business Daily, more than $3.5 million was spent in the first two quarters of 2020 by cannabis industry interests. (See chart above.)
For that price tag, stakeholders got at least 89 lobbyists to gin up support in Congress for bills such as the Marijuana Opportunity Reinvestment and Expungement (MORE) Act, which would remove marijuana from the list of federally controlled substances.
That bill is expected to receive a full vote on the floor of the U.S. House of Representatives before year's end.
Other major priorities for cannabis industry interests include:
The Secure And Fair Enforcement (SAFE) Banking Act, which passed the full House last year before stalling in a key Senate committee.
The STATES Act (Strengthening the Tenth Amendment Through Entrusting States).
The Marijuana Freedom and Opportunity Act, a descheduling measure.
The repeal of 280E.
The U.S. Food and Drug Administration's policies on marijuana and hemp.
The biggest spenders during the first two quarters of 2020 were cannabis trade associations, according to federal records:
The CTF spent $575,000 for a team of 19 lobbyists to work on 38 different pieces of cannabis legislation introduced in Congress, though CTF's Fox said the organization's "primary focus" was the STATES Act during the current session of Congress, though its focus has recently shifted to the MORE Act.
The Global Alliance for Cannabis Commerce (GACC) was a close second, with $500,000 spent on 13 lobbyists to handle at least five bills and "issues related to cannabis policy."
The National Cannabis Roundtable was third with $430,000 spent on eight lobbyists to work mostly on the SAFE Banking Act.
Those weren't the only stakeholders paying for lobbyists, though.
Other nonprofits and trade groups spent heavily on lobbying during the same time period, including:
$120,000 from the National Cannabis Industry Association (NCIA).
$67,500 from the Marijuana Policy Project.
More than $175,000 from the Drug Policy Alliance (though much of the DPA's work was on issues unrelated to the marijuana industry).
Not to be left out, marijuana businesses also have bankrolled their own lobbyists in DC to have a seat at the political table. Some of the biggest spenders in the first two quarters include:
Massachusetts-based Curaleaf, which shelled out $390,000 for four lobbyists.
Toronto-based Cronos Group, which spent $165,000 on four lobbyists.
Ontario, Canada-based Canopy Growth, which spent $150,000 on two lobbyists.
Other marijuana businesses that wanted their say ranged from California businesses such as Ghost Management Group (the parent company of Weedmaps.com) and delivery giant Eaze Technologies to multistate operators such as Acreage Holdings, Trulieve, Holistic Industries, 4Front Ventures and PharmaCann. Each company spent thousands on DC lobbyists this year.
Lobbying from outside interests
The $3.5 million-plus doesn't include cash spent on lobbyists by outside interests such as beer giant Anheuser-Busch, which disclosed in a federal lobbying report it assigned a lobbyist to track "government oversight of cannabis/CBD in food products."
One of the bigger private-company spenders on lobbying – alcohol giant Constellation Brands, which holds a direct stake in Canopy Growth – has spent $180,000 so far in 2020 to sway Congress, with three of its lobbyists working on cannabis legislation.
In addition, some individual cities and counties decided their stake in the cannabis industry is serious enough to warrant spending cash on their own DC lobbyists to at least monitor Congress.
For instance, the city of Desert Hot Springs, California, which rushed to embrace the industry years ago and has become home to large marijuana greenhouse cultivation operations, has spent $20,000 so far this year on a lobbyist to work on three issues: protecting national parks, coronavirus pandemic relief and cannabis legalization.
Other local governments that have paid for their own DC lobbyists this year to keep an eye on marijuana reform in Congress include the cities of Medford, Oregon, and Emeryville, California, as well as Humboldt and Solano counties in California.
Additional stakeholders that have DC lobbyists working on marijuana reform range from the Epilepsy Foundation to various Native American tribes to several organized labor unions and the banking lobby.
John Schroyer can be reached at johns@mjbizdaily.com