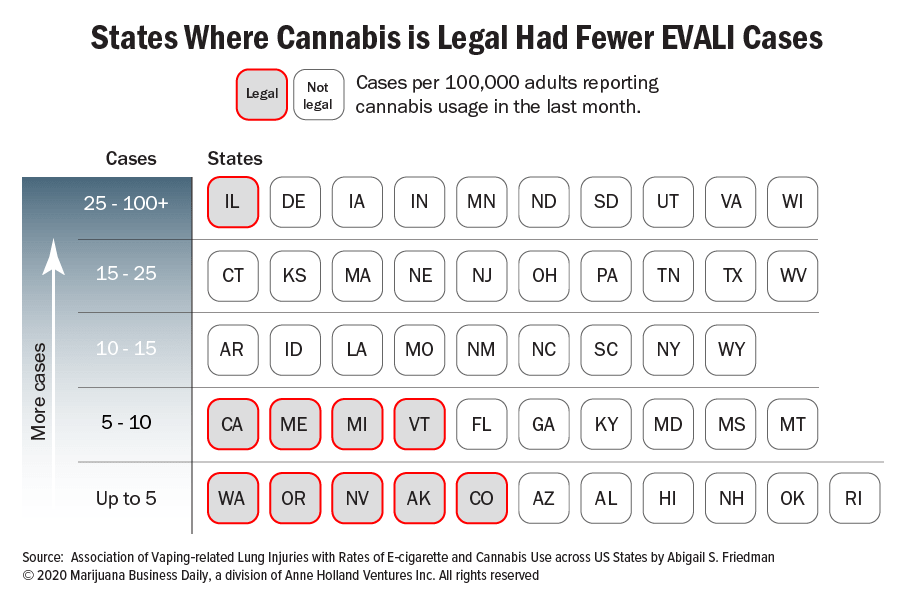 A year after the vaping health crisis upended the cannabis industry, marijuana vape companies report that sales have rebounded as consumers grasp the danger of consuming illicit-market vaporizers and switch to legal suppliers.

Arnaud Dumas de Rauly, co-founder and CEO of New York-based vape manufacturer The Blinc Group, sees this as the biggest impact of the vaping health scare.

"It made consumers realize that you can't just buy any cannabis vaping product," he said. "You can't go to the black market."

The outbreak of what the Centers for Disease Control and Prevention dubbed e-cigarette or vaping product use-associated lung injury (EVALI) in the summer of 2019 slowed the growth of some companies and stifled sales toward the end of the year.

But vape products, like other cannabis goods, seem to also be weathering not only the health crisis but the current economic downturn.

"We've seen tremendous bounce back from the vape crisis," said Sammy Dorf, chief growth officer and co-founder of Verano Holdings, a vertically integrated cannabis company in Chicago. "Business is extremely strong."

The COVID-19 pandemic hasn't slowed business much, either, according to the vape companies, despite fresh warnings that vaping and smoking can make a person more vulnerable to the virus.

"We haven't seen a change in the purchasing pattern of our patients or customers due to the pandemic," Dorf added.

How it played out

The vape health crisis unfolded rapidly, beginning in the summer of 2019 with mainstream media reports seizing on the news that people were dying from allegedly vaping mainly THC products.

Some states with regulated cannabis markets such as Washington temporarily banned additives in vapes, while others, including Massachusetts, banned the sale of vape products altogether.

It took a few months for more information about the illness to surface.

Scientists identified one substance, vitamin E acetate, which is added as a cutting agent to some vape oil, as a possible culprit in the lung illness.

Many industry officials claimed that vitamin E was more commonly found in illicit market products and pointed out that legal cannabis is regulated, tested and safer than unregulated street products.

Most recently, an academic study published in August confirmed that states lacking licensed, regulated cannabis saw the highest rates of EVALI, particularly those in the northern Midwest. (See chart above.)

The report, from the Society for the Study of Addiction, noted "these results suggest that EVALI cases did not arise from e-cigarette or cannabis use per se, but rather from locally distributed e-liquids or additives most prevalent in the affected areas."

"We believe the bigger lesson here is that the data clearly indicate that there were fewer cases of lung illnesses and injury in states where legal, regulated cannabis products were available," said Steve Fox, strategic adviser to the Cannabis Trade Federation.

"In fact, the lowest rates of incidence were in Colorado, Washington and Alaska – three of the first four legal states – with Oregon and Nevada close behind."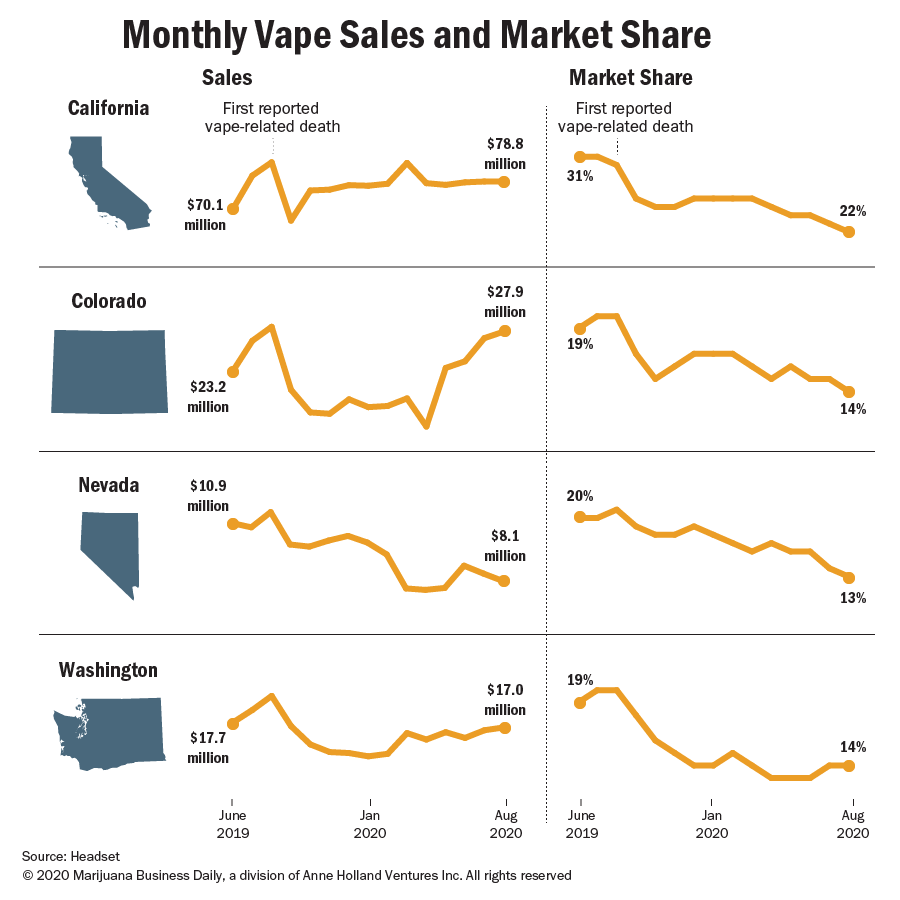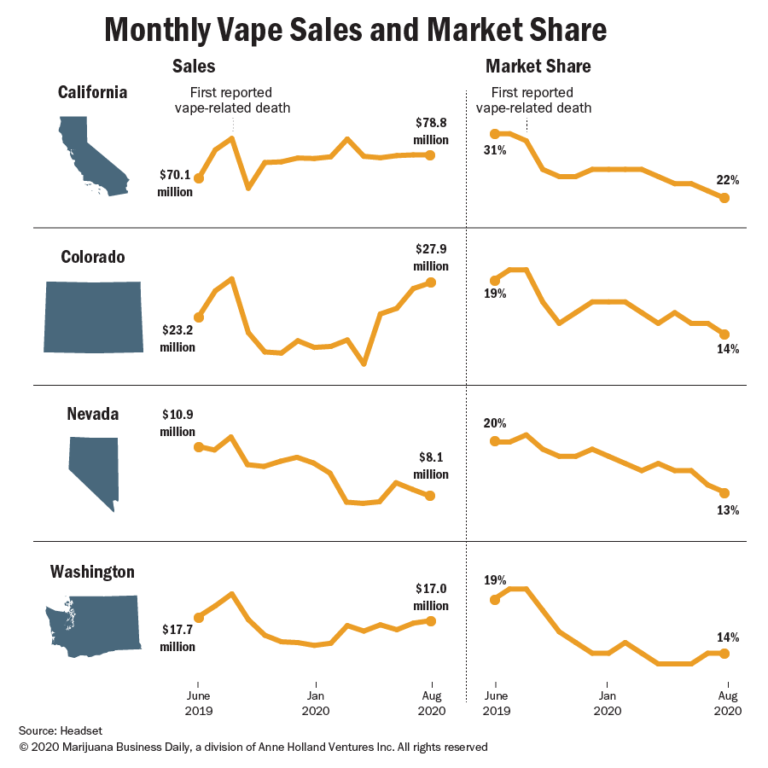 'Very scary'
According to Seattle data-analytics company Headset, sales of adult-use vape products in three of four states with recreational markets generally have recovered, though Nevada retailers saw sales still lower than pre-health scare levels after the state enacted stricter lockdown measures for marijuana retailers during the pandemic.
However, market share for vape pens is lower year-over-year, according to the
Marijuana Business Factbook
, as flower tends to represent a more economical choice amid COVID-19 and greater economic concerns.
Several cannabis vape business executives interviewed for this story said sales have completely rebounded.
George Sadler, president of San Diego-based Platinum Vape, which sells products into several markets, said sales plateaued right after the initial scare but started trending upward in the early winter.
"We never really saw much of anything on the level of decline that we thought," Sadler said.
Dumas de Rauly said his sales started to recover in December as consumer confidence in the legal market returned.
"We have doubled our revenue in terms of vaping hardware since the vaping crisis," Dumas de Rauly said.
But he added that his business likely lost a year of growth because of the earlier drop in sales.
In Denver, Dan Gardenswartz, chief operating officer at Spherex, said his company's sales never took a "meaningful hit," but the end of 2019 was "a little bit of a roller coaster."
"It was a very strange time," he said. "The vape crisis was a very scary thing for people in the industry."
Seth Wiggins, chief revenue officer for Clear Cannabis, also in Denver, saw a decline in sales for about 60-90 days before the trend began to reverse.
The health crisis "was very painful initially," he added.
However, Wiggins said his company has posted record sales in recent months.
Illicit to licit
Wiggins attributes that lift in sales to customers who are shifting from illicit suppliers to legal providers.
"The compliant market allows for more regulations and safety," he added. "It's breaching the tipping point where the cost basis is not worth the risk" to buy off the street.
Morgan Fox, spokesman for the National Cannabis Industry Association, also identified that trend.
"Across the board, we've seen a lot of people moving away from the unregulated market largely because of public-health concerns," he said.
Gardenswartz said he saw more people transition from the illicit to the legal market in California than in Colorado, which has imposed tighter controls on illegal dispensaries peddling products.
Sadler agreed. He believes there has been some decline in vape sales on the unlicensed market, and he noted that some of his consumers have made the shift from the illicit market to licensed businesses.
He cited Weedmaps' decision to curtail advertising for unlicensed dispensaries as helping consumers find legal, tested vape products.
Consumers are more aware that they're going to a licensed dispensary, and stores in California have even displayed QR codes on storefronts so customers know they're buying from a legal shop.
"People are more diligent about asking the questions," he said.
Bart Schaneman can be reached at [email protected]