I attended the Mile High Kush Expo over the weekend, and I was quite surprised by the makeup of the exhibitor pool. I was expecting a solid mix of vendors/suppliers and dispensaries, but there was a noticeable lack of participation by the latter group. Most of the booths were occupied by lawyers, insurance agents, doctors and companies that make glass pipes, marijuana containers, point of sale software and edibles, among other products. Dispensaries, from what I could tell, were largely absent from the expo.
I had a hard time determining the target audience for the event, and that might help explain the relatively low level of participation by dispensaries. There certainly were a fair share of recreational users in the crowd, but the gathering didn't have the feel of KushCon or other events that focus more on the marijuana lifestyle (rightfully so – the Mile High Kush Expo was billed as a medical marijuana conference, not a party for pot heads). At the same time, it didn't really seem like a trade show for the industry either, what with the live bands and all. So some owners might have decided to skip the event – where the smallest booths went for $1,000 a pop – to focus on other gatherings, as the value proposition wasn't clear.
The crowds were relatively sparse the two times I visited, and the booths only occupied a small portion of the convention center floor. Regardless, I do think it was a valuable event for dispensary owners to at least attend, as it provided a perfect opportunity to discover potential new partners and suppliers.
I thought the most interesting display at the event was the booth with a new marijuana board game called Colorado Cannabis Craze, which was described to me as a mix between Life and Monopoly. The idea is to visit cities in Colorado where you can buy medical marijuana and then get it back to a dispensary in Denver to sell. I couldn't pull up the website (www.hilljackgames.com) listed on the brochure, so I'm not sure how you can order the game for your dispensary. But I did snap a photo of it, which you can see below.
Putting this on your shelves would be another way to expand your product offerings, as we touched on last week in this post.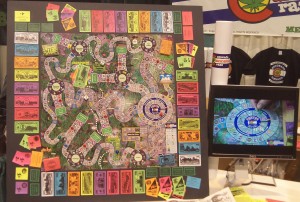 Chris Walsh is the editor of Medical Marijuana Business Daily