Medical Marijuana Inc. is quickly becoming one of the most promising publicly traded companies in the cannabis industry, posting record revenues and profits on a consistent basis and moving forward with plans to get its shares listed on a more prestigious exchange.
The latest positive development came this week, when the San Diego-based company announced preliminary financial results for the first quarter.
Medical Marijuana Inc. said it generated $8.45 million in revenues through March 31, a nearly fivefold increase from $1.79 million during the same period in 2012.
Net income rose by a similar percentage, coming in at $5.52 million during the first quarter vs. $1.21 million last year. The company will release its official, audited first-quarter results by May 15.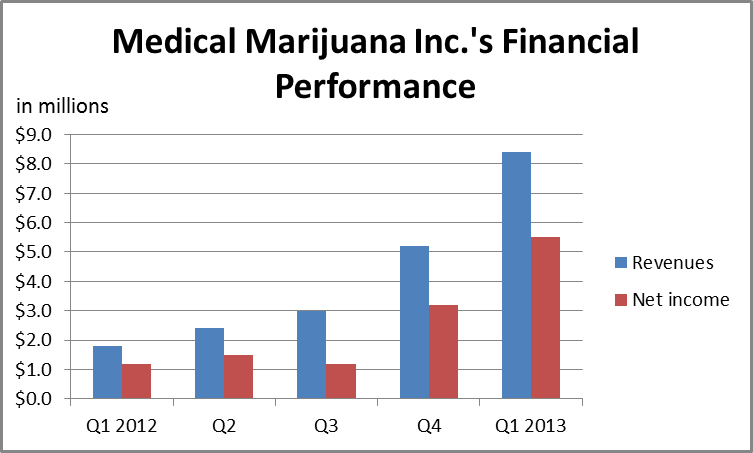 Medical Marijuana Inc. owns several companies involved in the medical cannabis industry, including PhytoSphere, Red Dice Holdings – which runs infused products maker Dixie Elixirs & Edibles – CanChew Bio-Technologies and HempMeds RX.
The company, which trades on the over-the-counter market under the symbol MJNA, attributed its financial gains to a variety of factors, including:
– Sizable sales increases for its Dixie Botanicals line of products, which are made with hemp oil.
– Favorable new cannabis laws in the United States and abroad.
– Government agencies enlisting its help to draft legislation and guidelines.
– New investments in companies such as KannaLife Sciences.
-The expansion of existing companies in its portfolio, including PhytoSphere.
"The company – at great expense, time and energy – has successfully navigated one of the most interesting and dramatic quarters the industry has seen," Michelle Sides, chairman and COO of Medical Marijuana Inc., said in a release. "We have seen significant change and the vast majority of that has been positive. We have had growth across all our brands and have added a few more to our family of companies."
Growth of Dixie Botanicals has been particularly strong, with the company shipping "tens of thousands" of units a month to dispensaries, wellness centers and directly to consumers both nationally and internationally, said Tripp Keber, managing director of Dixie Elixirs & Edibles.
The products offer pain relief without the "high" associated with marijuana. Because they don't contain THC and are derived from hemp – not cannabis – they can be sold just about anywhere.
"We literally cannot make these products fast enough, and it's likely we will be outsourcing manufacturing of Dixie Botanicals in the not-too-distant future," Keber said.
The company's shares spiked on the quarterly results, rising as much as 17% in the hours after the announcement. They have fallen slightly since and now trade at 25 cents, about 8% higher than before the earnings release.
Aside from the financial progress, Medical Marijuana Inc. is looking to get its shares listed on the New York Stock Exchange (NYSE), possibly by acquiring a company that currently trades on the market. Such a move would bring a huge amount of credibility and legitimacy not only to Medical Marijuana Inc. but also to the entire cannabis sector.
Medical Marijuana Inc. and other public cannabis companies currently trade on the over-the-counter market and are deemed "penny" stocks, a term that reflects their low share prices. Many investors shy away from these types of stocks, as the financial reporting requirements are minimal and the shares often fluctuate wildly. Getting listed on the NYSE would boost investor interest significantly and create more financial transparency.
In its 2012 annual report, San Diego-based Medical Marijuana Inc. said it is "evaluating several New York Stock Exchange (NYSE) listed companies for purchase and possible integration in order to achieve a high listing and regulatory status. Acquisitions are being evaluated which may accomplish our goals of NYSE listing." The company said there is "no way of knowing" if this can be accomplished but that it will explore opportunities to do so.
As part of its move in this direction, Medical Marijuana Inc. is wrapping up an audit of its financials for the past 24 months in a bid to become a fully-reporting company with the Securities and Exchange Commission. It expects to complete the audit by the end of the second quarter.