The town of Port Angeles, Washington, has experienced a marijuana boom in 2014.
But the growth is tied to the medical – not recreational – market.
Three new medical marijuana dispensaries have opened up in the small burg (population: 20,000) on the North Olympic Peninsula so far this year, bringing the town's total to five.
The five dispensaries serve a combined patient base of about 4,000, which includes residents of neighboring municipalities that have moratoriums on all marijuana retailers.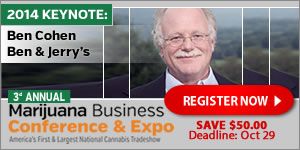 The situation in Port Angeles is playing out across Washington State, as the unregulated MMJ industry expands while recreational businesses wade through a sea of red tape and logistical issues.
An unintended side effect of this is that plenty of Washington tourists wind up visiting towns like Port Angeles wanting to purchase cannabis, but they hit a wall when they can only find MMJ dispensaries.
"I think we're going to be used as a model as more states legalize cannabis about how not to do things," one Port Angeles dispensary owner told a local news outlet.