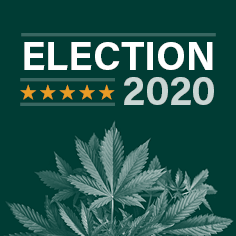 Billions of dollars in business opportunities are riding on whether New Jersey residents legalize a recreational cannabis market in November.
A recreational marijuana industry in New Jersey itself – with a population of nearly 9 million people – would reach $850 million-$950 million in sales a year by 2024, according to a Marijuana Business Daily projection.
But that's not all: Approval is expected to cause a domino effect along the Eastern Seaboard and inland, creating an adult-use marijuana region that is among the biggest in the world.
The population of four states (see graphic above) that have been discussing adult-use legalization – New York, Pennsylvania, Connecticut and Rhode Island – totals 37 million, more than quadruple the number of people who reside in New Jersey.
Already, a recreational marijuana industry has been established in Massachusetts, the 15th-most-populated state in the country. A smaller adult-use market in Maine is set to launch Oct. 9.
New Jersey "will be the final hurdle for New York, Pennsylvania and surrounding states," predicted Scott Rudder, president of the New Jersey CannaBusiness Association.
"It's going to motivate the surrounding states for sure," agreed Bridget Hill-Zayat, a cannabis attorney with Hoban Law Group who is licensed to practice in Maryland, New Jersey and Pennsylvania.
For example, Pennsylvania Gov. Tom Wolf has been pushing hard in recent weeks to legalize recreational marijuana, but he is getting resistance from top Republican lawmakers.
Wolf's urgency is heightened by the coronavirus pandemic, which has caused tax revenues in the country's fifth-most-populated state to fall. Marijuana could be part of the solution to those budget woes.
But Wolf also likely sees the implications of Pennsylvania lagging behind New Jersey.
For example, adult-use marijuana stores in Camden and Trenton, New Jersey, are likely to attract customers from nearby Philadelphia – and not just recreational customers.
"A lot of medical marijuana customers will go over to New Jersey, and that's a significant amount of revenue Pennsylvania is going to lose," Hill-Zayat said.
The last thing Pennsylvania needs is to not only miss out on potential adult-use revenue but also lose some of its growing MMJ revenue across the border.
Regional strategy
More than any other region in the country, the Northeast has been trying to move as one bloc toward adult-use legalization.
New York Gov. Andrew Cuomo hosted an inaugural meeting of Northeast governors in fall 2019 to begin to develop uniform standards and a regional approach to legalization.
Cuomo was joined by Wolf, New Jersey Gov. Phil Murphy, Connecticut Gov. Ned Lamont and representatives from Rhode Island.
At that time, New York and New Jersey were in a high-stakes race to legalize recreational marijuana.
New Jersey lawmakers made a run at legalizing, but when they couldn't reach an agreement, they decided instead last December to put it in front of voters.
Cuomo, meanwhile, wanted to legalize adult use via his spring 2020 budget bill, but then the coronavirus hit the region hard, filling up hospital beds. He shelved the plan for the time being.
Connecticut's Lamont also made a push for recreational marijuana legalization, another effort in the region that stalled because of COVID-19.
In July, Rhode Island Gov. Gina Raimondo said she would renew a push for adult-use legalization.
Short on details
The New Jersey initiative lacks details such as how many business licenses will be made available, but those laws and regulations will be filled in later by state lawmakers and cannabis regulators, assuming voters pass the initiative.
That looks likely.
Residents favor the legalization proposal by a margin of 68%-26% with 6% unsure, according to a July poll commissioned by the cannabis law practice of New Jersey-based Brach Eichler and conducted by New York-headquartered DKC Analytics.
An April poll by Monmouth University in New Jersey, found 61% of respondents in favor of legalization.
Rudder and others believe that current medical cannabis operators will get first crack at the adult-use market in an effort to ease and accelerate a market launch that could occur by late 2021.
He predicted a "level of urgency" for lawmakers to pass the enabling legislation and for regulators to establish the rules because of the pressure to generate economic opportunities and tax revenues in wake of the coronavirus pandemic.
Hoban attorney Hill-Zayat agreed.
"If the motivation is a drive for tax revenues, they are going to want to move as quickly as possible," she said.
The initiative calls for a 6.625% sales tax on adult-use products. Municipalities could pass ordinances to charge local taxes of up to 2%.
New Jersey's current MMJ operators – including Garden State Dispensary, New York-based multistate state operator Acreage Holdings and Massachusetts-based MSO Curaleaf – are expanding cultivation capacity to prepare for a recreational market.
The state currently has only a dozen medical marijuana dispensaries – the 12th opened last week – but additional ones are expected to open in the coming months.
Regulators also want to issue 24 additional MMJ business licenses, but that plan is on hold because of litigation.
New York 2021?
In neighboring New York, adult-use legalization bills technically are still alive in legislative committees. But industry insiders believe it's doubtful a bill would pass before year-end.
Jeremy Unruh, senior vice president of public and regulatory affairs for Illinois-based PharmaCann, which possesses a vertically integrated MMJ license in New York, said the strategy might depend on how the state benefits by the next stage of coronavirus stimulus legislation.
"Like other states, the (adult-use) effort is largely fiscal. Accordingly, the state wants to see what it gets out of a COVID stimulus bill from Congress so it knows how big a fiscal hole it will have to plug," Unruh said.
Even then, he doesn't expect New York to easily resolve the issue of how to create a recreational program that is diverse, with robust participation from minority entrepreneurs.
"In my view, New York's next-best opportunity (to legalize adult use) will be after the new year, when the General Assembly convenes to address the governor's budget bill," Unruh said.
Rob DiPisa, co-chair of the cannabis law practice at Cole Schotz in New Jersey, concurred.
It will be easier if legalization is part of the budget bill.
In fact, DiPisa noted, the coronavirus pandemic strengthens that case, since a recreational marijuana program would generate additional tax revenue for a state that has a multibillion-dollar budget shortfall.
It's possible that New York and New Jersey still could be close in terms of a market launch – perhaps in late 2021.
That's what Curaleaf, which became the largest cannabis company in the U.S. with its acquisition of Illinois-based Grassroots Cannabis, is counting on.
In addition to expanding in New Jersey, Curaleaf plans to increase its cultivation capacity in New York, Executive Chair Boris Jordan said during an earnings call in mid-August.
"We believe the potential legalization of adult use in New Jersey could kick off a wave of legalization in the Northeast, with New York, Connecticut and Pennsylvania likely to seriously consider adult-use legalization," Jordan told analysts.
Jeff Smith can be reached at jeffs@mjbizdaily.com