Despite the best efforts of cannabis activists in Oklahoma, a proposal to legalize medical marijuana in the state isn't expected to go before voters this November.
The deadline to turn in 155,000 signatures of registered Oklahoma voters was Saturday, and the head of the group behind the ballot measure said he thinks the petition drive came up short.
"My expectation is that we collected somewhere between 100,000-120,000 verified signatures, but we will see," Chip Paul, who heads Oklahomans for Health, wrote in an email to Marijuana Business Daily on Monday afternoon. "Don't think we will make the ballot this go but we will be back out again next year."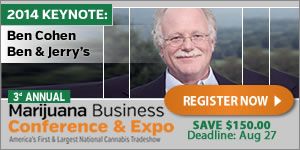 Several families with children who suffer from severe epilepsy gathered at the state Capitol on Friday morning, before the campaign turned in more than 30 boxes of petition signatures to the secretary of state's office.
Paul estimated that the MMJ legalization campaign spent about $60,000 and helped signed up roughly 40,000 new voters. Advocates plan to keep up the same kind of pace in 2015, Paul said.