An Oregon judge has decided that towns and counties have the right to ban or restrict dispensaries under the state's medical marijuana laws, a ruling that sets an important legal precedent just weeks before residents weigh in on recreational cannabis.
The town of Cave Junction, in the southwestern part of Oregon, sued the state last year after lawmakers passed a bill that paved the way for regulated dispensaries and other medical marijuana businesses. Town officials argued that municipalities should be permitted to ban dispensaries because marijuana is still illegal at the federal level.
In a decision issued late last week, Judge Pat Wolke sided with Cave Junction, writing that nothing in the statue prohibits local governments from handing down moratoriums or straight-up bans when it comes to MMJ businesses.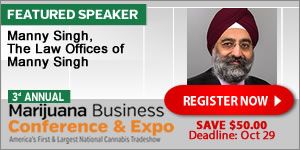 Wolke didn't directly address the intersection of federal and state laws.
So far, five Oregon towns have banned dispensaries, including Hermiston, Jacksonville, Medford, Oakridge and Tualatin.
A measure to legalize the use and sale of recreational marijuana in Oregon will appear on the November ballot. If it passes, some cities will likely look to ban retail shops, and they could cite Wolke's ruling if legal challenges arise.
After recreational marijuana was approved in Colorado in 2012, dozens of towns and counties took advantage of a provision that allowed them to pass prohibit adult-use cannabis shops.