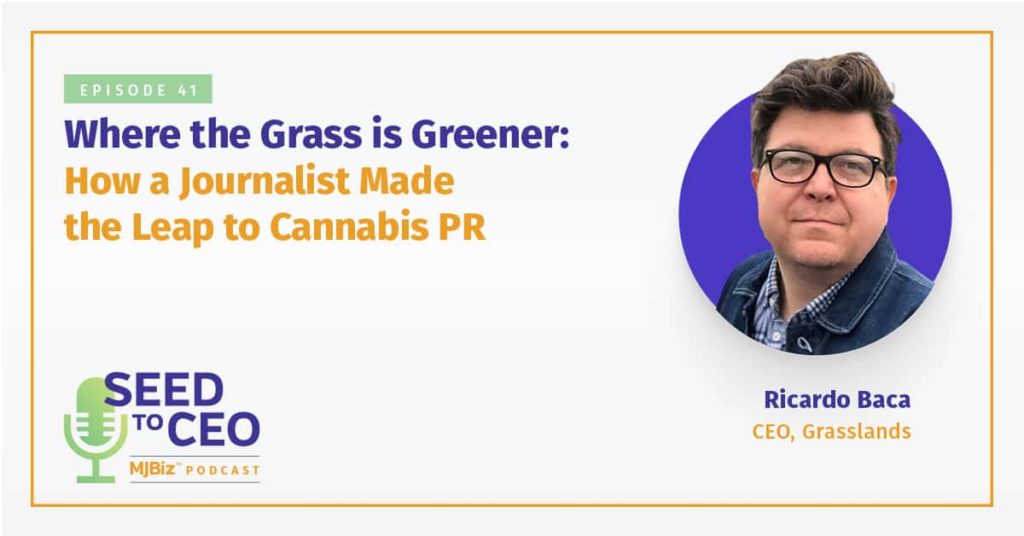 Ricardo Baca made his cannabis industry name as the first marijuana editor at The Denver Post. The skills and connections he garnered in that career gave him the confidence to launch his own public relations venture, Grasslands, in 2016, but journalism didn't provide him the business acumen required for success. In this episode of "Seed to CEO," Ricardo talks with MJBiz CEO Chris Walsh about learning the ropes to create a successful firm.
Ricardo shares:
The critical role mentors played in the learning process.
What it really means to differentiate your offerings.
How to survive having your bank accounts closed – and how to find a new bank.
How to make smart and transformational hires.
Who is Ricardo Baca?
Ricardo Baca is the co-founder and CEO of Denver-based Grasslands: A Journalism-Minded Agency, which represents cannabusinesses such as Cookies and Willie's Reserve. He spent more than 20 years as a journalist, including 12 years with The Denver Post, before launching Grasslands. Ricardo was chosen one of Fortune magazine's "7 Most Powerful People in America's Marijuana Industry" and has been a Clio Awards juror and TEDx speaker. Grasslands was awarded the Denver Business Journal's 2020 Small Business Award and today has 26 employees.