By Fred Dreier
In 2011, Raphael Pepi saw rapid expansion within the electronic cigarette market and believed there was an opportunity to sell similar products to medical marijuana patients.
A veteran software engineer and MMJ patient himself, Pepi was unimpressed with the handheld vaporizers on the market. So in 2012 he went about designing his own product specifically for the cannabis space, launching the Vipvape vaporizer with about $10,000 of his own cash.
Two years later, his company – V.i. Technologies – has grown to seven employees and a distribution umbrella that includes California, Colorado and Washington state. Along the way, the market for vape pens has also become more competitive, with a dozen or so similar brands trying to lure customers.
Marijuana Business Daily caught up with Pepi to talk about this explosive market, increased competition and how he's seen the sector evolve.
Q: How would you characterize the vaporizer market when you entered it in 2012?
A: There was a lack of people with actual engineering backgrounds in the space, so I saw an opportunity to take my background in quality-assurance engineering and hardware engineering and put some forward-thinking concepts into the market.
At the time, everyone was using e-cigarettes. I took one apart and determined that the only way to make one that worked really well with essential oils and cannabis extracts was to customize it for that type of use. There is no need for all of the wick material and silicon fiber that is used in an e-cigarette, which use thin liquids. Oils are much more viscous. A few smoke shops carried these products in the Bay Area and a few dispensaries, but they were hard to find.
Q: The vape space is getting more competitive. How has this changed the dynamic of the industry?
A: The federal government just released some new regulations around e-cigarettes, and we're hoping it makes it a little harder for fly-by-night companies to come out with some substandard pen just to make quick cash. I've seen so many devices come out in the last year that don't hit the mark from a hardware and tech perspective, but they have someone helping market them, like a rapper or celebrity. It breaks the week after you buy it. I'm hoping it's going to calm down now.
I've definitely seen a few other companies really come up in terms of quality and brand recognition. The main competitors we see are Black 'n Mild and Vaped, who are doing a lot in terms of getting good product out there.
Q: Why is there a shift toward vapor products? Why do you think cannabis users are attracted to vape pens?
A: I see a lot of people viewing concentrates as the next big wave because of the ease of distribution.
They are much easier to manage, and you can really manage how much you are taking in with the vapor devices.
Also, there's always been an interest in healthier living with the cannabis crowd. Doctors want patients to switch over from smoking to vaporizing because you get fewer tars and chemicals. I always told my doctor that I was vaporizing and had been doing so for 10 years, and he was encouraging to that aspect. It eliminates a lot of the argument from the detractors of cannabis who say it's unhealthy.
There's also the discretionary side of it. When we were designing it, we shied away from the big glass bowls that some vaporizers have. We wanted to present a product that looked slick, like an e-cigarette. It's something that moms at the park could use if they wanted a toke.
Q: How does your product operate within current medical marijuana regulations?
A: We are still considered an e-cigarette, so we are governed by the laws related to that market. From a hardware and tech side, we're a product that works with generic essential oils, not just cannabis, so from a sales and distribution standpoint we can sell them wherever.
We pay import taxes to bring them in [from China], that is really it. We make hardware. What the consumer chooses to use that hardware for is completely up to them.
Q: How did you finance the business?
A: So far it's been 100% self-financed. In China [where Vipvape is manufactured], there are so many companies manufacturing devices that they are hungry for the business. In terms of production capital, since we have to produce units with them, the overhead for the demo time was incorporated into the cost of each unit.
Q: What are the challenges of working with Chinese manufacturers?

A: They don't really understand what wax or concentrate is and assume everything is just for cigarettes.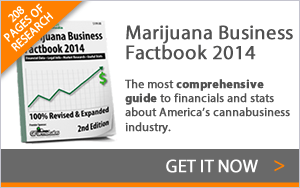 I've been lucky that I got connected with a [Chinese] company that manufactures beauty products as well as e-cigarettes, so they put a little more quality control into their products. The language barrier has been a challenge. It took a couple of trips to Shenzhen to meet with various manufacturers and talk to their engineering teams to figure it out. I'd say 90 % of the engineers over there don't speak English, but they speak engineering, so if you have a liaison, you can get things done.
They don't really innovate over there, but they are great at copying what everyone else is doing, so getting them to wrap their brains around the idea of making a product for essential oils and not e-cigarette oil has been challenging and has required many trips. If you can get them 3-D models, that helps.