Register today for this Investor Intelligence Webinar to get analysis of the outlook for cannabis portfolios in the coming months, plus: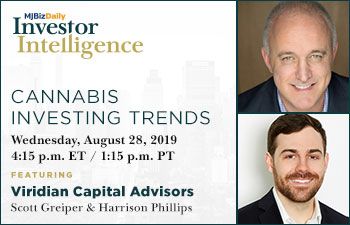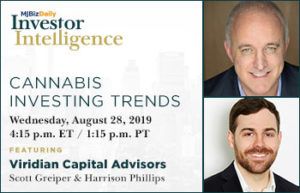 Key facts and figures about capital raises & M&A during the second quarter
Where activity is taking place – and who's investing in whom
How these investment moves are changing the North American cannabis landscape
Special Guests:
Scott Greiper, President and Founding Partner, Viridian Capital Advisors
Harrison Phillips, Vice President, Viridian Capital Advisors
This webinar is part of MJBizDaily's premium subscription service, Investor Intelligence. To access the video and more in-depth cannabis investing analysis, become a member.
Investor Intelligence is designed to help you make smart investment decisions in the next 3-18 months that you will be patting yourself on the back for 3-5 years from now.
---
Investor Intelligence
Membership & Access
Risk analysis and insights straight from industry experts
Critical insights into valuation trends and the latest deals & mergers
Time-sensitive analysis of major industry developments
Meaningful data, realistic projections and key investment metrics