Legalizing recreational marijuana in Oregon would represent a "net win" for the state from a financial perspective regardless of the exact tax levels imposed on the industry, according to a university researcher who has studied the issue in depth.
"When you consider the proposed excise tax and additional revenue from income taxes, it could become a sizable income stream for the state," Seth Crawford, a sociologist at Oregon State University, said in a press release issued by the school.
But estimating the full economic impact of legalization and the market's size will be difficult until officials decide how to regulate the industry.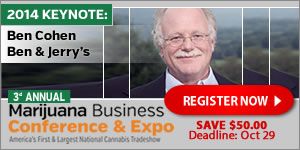 Crawford estimates that the state could collect more than $100 million annually if the Oregon Liquor Control Board decides to implement high sales and excise taxes on cannabis transactions.
In that scenario, Oregon cannabis shops would rack up several hundred million dollars in sales each year. But the heavy tax burden would limit their sales and keep the black market in business because illegal growers and distributors could keep their prices lower than legal companies.
If Oregon opts for a lower tax structure, then state revenue from recreational marijuana could be as little as $35 million a year, Crawford estimated. But there would be less of a threat from the black market, so cannabis retailers could generate more revenue.