This may be the strangest marijuana-related story you read all week.
A Russian cannabis company has paid more than $200,000 for the rights to Ebola.com, according to Time Magazine.
The company, Weed Growth Fund, threw down $50,000 in cash and nearly 20,000 shares of stock in a different marijuana company – Nevada-based Cannabis Sativa – for the domain name.
With Cannabis Sativa stock currently trading near $8.50, the shares are worth an estimated $164,000.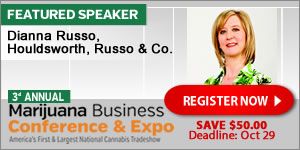 When the previous owner of Ebola.com was asked by a journalist why a Russian marijuana company would be interested in the domain name, he responded with an email that included a link to a news story in which former New Mexico Gov. Gary Johnson claimed that cannabis is a potential treatment for ebola. Johnson is now the CEO of Cannabis Sativa.
Another twist to the story: Just last month, Weed Growth Fund was going by the name Ovation Research and specialized in "stainless steel cookware products for retail and wholesale customers in North America."
As Time concluded, "No, you're not high (as far as we know). This really happened."