San Francisco, which was at the forefront of the medical marijuana movement a decade ago, has developed a case of cold feet when it comes to a proposed expansion of its MMJ industry.
The city's Planning Commission has decided to wait until December to make a decision on whether a fourth dispensary can open in the Excelsior neighborhood.
At issue is whether existing dispensaries have contributed to an "unsavory element" in the neighborhood. The commission's vice president also said that there's a "clustering" problem with dispensaries, commenting that "there are just too many."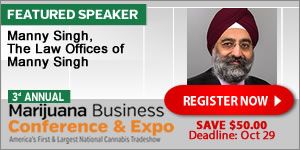 San Francisco's MMJ rules were first passed in 2005, and the city is now home to 24 dispensaries.
Many locals feel there's a need to update the laws to adjust to how the industry has grown. Currently, MMJ businesses are allowed in less than 5% of the city, an area known as the Green Zone.
California's lack of state regulations has left all MMJ rules up to local governments, which has resulted in a patchwork of municipal and county regulations that run the gamut from zoning restrictions to outright bans.