By Chris Walsh
On April 19, rapper-turned-rastafarian Snoop Lion will saunter onto a stage ensconced in marijuana smoke at the Filmore Auditorium in Denver to promote the debut of his new movie "Reincarnation."
It's the type of gathering you would expect to see in one of the most cannabis-friendly states in the country (Colorado) on the eve of the biggest holiday for potheads (4/20) with a premier marijuana event in town (the High Times US Cannabis Cup).
The big surprise, however, is the name of the company co-sponsoring the event: Dixie Elixirs & Edibles, a marijuana-infused products manufacturer that built its business catering to medical cannabis patients.
The decision to get involved in the "green carpet screening" of a movie about a pot-smoking superstar who appeals to the mainstream cannabis culture represents an about-face for the company. Dixie previously shied away from taking a prominent role – or participating at all – in such events, opting instead to participate in gatherings aimed at patients and the business side of the industry.
This year is different. Now that voters in Colorado and Washington State have legalized the adult use of marijuana, Dixie and other MMJ companies that previously steered clear of recreational users have made the decision to start actively targeting that crowd on 4/20, using it as a way to transition their business into the new market.
"We're going to be serving both masters, if you will," said Tripp Keber, managing director of Dixie Elixirs, which makes marijuana-infused and hemp-based products. "The reality is that we are playing chess, not checkers. So we are thinking several steps ahead. As a cannabis entrepreneur, you have to think in those terms. This will be a substantial move towards the adult-use marijuana market."
A Denver-based dispensary – Native Roots Apothecary – is also co-sponsoring the Snoop Lion event.
The decision, however, could be somewhat risky for some companies from a branding standpoint, and there are potential drawbacks in other areas as well. For one, the federal government hasn't even weighed in on marijuana legalization in Colorado, so there's still a chance it could look to prevent retail stores from opening up. Established medical marijuana companies could therefore waste time and money marketing to a consumer base that might not fully develop.
Additionally, MMJ companies that participate in events aimed at the recreational user could be seen as encouraging or condoning illegal behavior, some observers say. While marijuana use is now legal in Colorado, the state is still developing regulations tied to the production and sale of the drug. At many 4/20-related events, participants will have obtained their cannabis illegally (as no distribution model exists yet) and will also probably be violating rules tied to public smoking.
To be clear, many "medical" marijuana companies have long targeted recreational users and won't have an issue with tying their brands to the Cannabis Cup or other 4/20 events. The real issue is for dispensaries, edibles manufacturers and other MMJ companies that have solely targeted patients using marijuana for medical use.
The debate between marketing toward the 4/20 crowd and patients using cannabis for medical purposes is not new, but the issue "is now divisive among those in the industry," according to Micah Johnson, president and co-founder of Cannapages.com, which offers consultation in product quality, store presentation, niche branding and marketing.
"It has been difficult but necessary to tone down dispensary ads for publications, and business owners have been doing it for a long time now," Johnson said. "Those that wanted to look professional fought long and hard with those catering to the 4/20 crowd. Everyone has tended to find common ground, but there are those who get booths for the 420 Rally and High Times, and others who deny the crowd exists in an attempt to distance themselves from the stigma."
Johnson said medical marijuana companies should approach these decisions very carefully right how given all the unknowns.
"It would be wise for early retail adapters to be careful with transitional marketing elements, just in case the federal hammer comes down," Johnson said.
In fact, a branding change might not even be necessary at this point. "Even for those whose (dispensary) name is associated with medicine need not worry – potential clients will be excited to buy at a former dispensary," Johnson said. "In fact, the only way branding that needs to change are the doctor and nurse images."
Indeed, some MMJ companies are taking a cautious approach and have decided to continue focusing solely on the medical side of the industry.
The dispensary Denver Relief, for instance, will not sponsor any type of 4/20 events this year. Instead, it will do what it normally does on the day: Organize efforts to help pick up litter and trash at 4/20 gatherings in Denver (see photo below) and – for the first time – Massachusetts.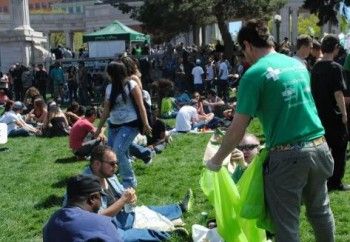 "We've always believed 4/20 is a silly thing that does no good for the industry, so for the fourth year in a row we are doing what we can to offset the negative images associated with rallies like this," said Kayvan Khalatbari, co-founder of Denver Relief. Aside from the volunteer efforts, "we don't participate in any other 4/20 events because it just doesn't fit in the medical industry."
Khalatbari said Denver Relief is still debating what to do in terms of the adult-use market, and it could very well end up targeting recreational users down the road.
But, for now, it is firmly focused on the medical side.
"Our primary goal is ensuring that the hundreds of patients that have us listed as their provider are taken care of," Khalatbari said. "If we can make that happen while opening it up to all users, we may do that. If we can't, we won't. A lot can happen with the regulations at this point as well, so time will tell."
MMJ businesses in Washington State – which is also still developing rules on recreational cannabis use – are battling similar issues.
"With all eyes on us, we need to operate in a conservative mode and make sure there is enough time for rules and ordinances to be created to govern us without this push to create a big party," said Greta Carter, executive director of the Washington-based Coalition for Cannabis Standards and Ethics. "If you're advocating a party, then basically you're advocating illegal access to marijuana, and that's not something we want to be doing right now. In my sphere of influence in Washington, I advocate for patience. Let's wait and see how this plays out, and then we can party."
Keber acknowledges the potential risks but said Dixie is still the same company it has always been. Additionally, Dixie has slowly been moving in this direction, as it is expanding outside the medical market anyway with its line of products based on hemp oil, which the company is now selling across the US and even internationally.
"Aligning yourself with somebody who is not embracing marijuana for medical reasons but for recreational use could be problematic," Keber said. "But at the end of the day we will always maintain extremely high brand standards. We won't associate ourselves with scantily clad women. Our brand image and standards remain the same, as do our formulations and testing processes to ensure the efficacy and accuracy of our products. That doesn't go away. What this does is allow us to bring to the table more innovative products and give consumers more choice."